Spartan Stores, Inc. Earnings: Beats Estimates and Generates Strong Cash
Spartan Stores, Inc. (NASDAQ:SPTN) reported net income above Wall Street's expectations for the fourth quarter. Spartan Stores, Inc. is a regional grocery distributor and grocery retailer, operating mainly in Michigan and Indiana. It operates two reportable business segments: Distribution and Retail.
Don't Miss: Wall St. Cheat Sheet's newest Feature Trades of the Month!
Spartan Stores Earnings Cheat Sheet for the Fourth Quarter
Results: Net income for Spartan Stores, Inc. rose to $7.8 million (34 cents/share) vs. $3.2 million (15 cents/share) in the same quarter a year earlier. A more than twofold rise from the year earlier quarter.
Revenue: Rose 2.3% to $571.5 million YoY.
Actual vs. Wall St. Expectations: SPTN beat the mean analyst estimate of 28 cents/share. Estimates ranged from 27 cents per share to 30 cents per share.
Quoting Management: "We are pleased that we concluded fiscal 2011 with a strong fourth quarter financial performance," stated Dennis Eidson, Spartan's President and Chief Executive Officer. "Our profitability remains at historically high levels and we continue to generate strong cash from operations."
Key Stats: The company has now seen net income rise in three-straight quarters. In the third quarter, net income rose 45.3% and in the second quarter, the figure rose 7.7%.
A year-over-year revenue increase last quarter snaps a streak of four consecutive quarters of revenue declines. The worst quarter in that span was the fourth quarter of the last fiscal year, which saw a 3.9% decrease.
Gross margins grew 0.1 percentage point to 22.7%. The growth seemed to be driven by increased revenue, as the figure rose 2.3% from the year earlier quarter while costs rose 2.1%.
Competitors to Watch: Nash-Finch Company (NASDAQ:NAFC), SYSCO Corporation (NYSE:SYY), United Natural Foods, Inc. (NASDAQ:UNFI), AMCON Distributing Co. (AMEX:DIT), ConAgra (NYSE:CAG), Core-Mark Holding Co., Inc. (NASDAQ:CORE), SUPERVALU INC. (NYSE:SVU), G. Willi-Food Intl. Ltd. (NASDAQ:WILC), The Kroger Co. (NYSE:KR), and Weis Markets, Inc. (NYSE:WMK)
Stock Performance: Shares of SPTN are unchanged from today's close.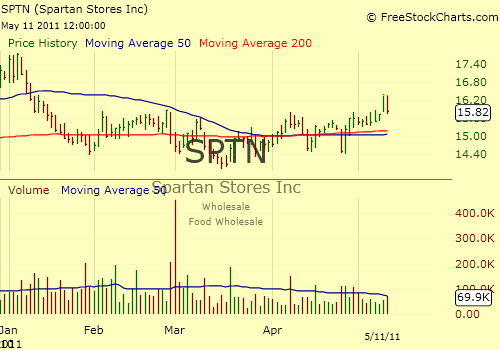 Don't Miss Wall St. Cheat Sheet's newest Feature Trades of the Month!