Sprint Combats Distracted Driving and 2 Other Hot Stocks to Watch
Sprint Nextel Corporation (NYSE:S): Current price $7.18
Sprint is taking part in the Federal Communications Commission Distracted Driving Technology Showcase occurring Friday at the FCC headquarters in Washington, as a part of its commitment to National Distracted Driving Awareness month. The Virginia Tech Transportation Institute reports that drivers who text while driving are 23 times more likely to crash, and to help fight this problem, Sprint has created a broad-ranged array of solutions for those who spend a lot of time behind the wheel, like long-haul truck drivers, delivery drivers, sales representatives, and field employees.

Dell (NASDAQ:DELL): Current price $13.46
The private-equity firm The Blackstone Group (NYSE:BX) is no longer in the race for Dell as of late Thursday, explaining that the rapidly declining PC market and Dell's weakening finances were the basis for its decision. This clears the path for Dell to finalize its original go-private plan, supported by Chief Executive Michael Dell and the investment firm Silver Lake Partners. That agreement, as reported February 5, valued the firm at $13.65 a share, or $24.4 billion. Dell shares were down 3.4 percent early Friday, near $13.50. In a letter to Dell, Blackstone and others involved in the bidding race said that "significant adverse issues" have appeared since they made their offer on March 22nd.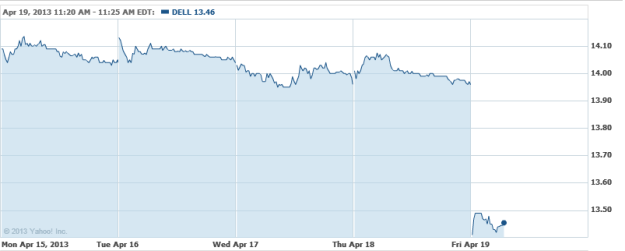 Nokia Corporation (NYSE:NOK): Current price $3.04
During the first quarter, Nokia shipped 5.6 million Lumia smartphones, marking a 27-percent rise over the previous quarter, and the firm expects to sell around 7 million in its second quarter. That would be impressive sales acceleration in a market 90 percent controlled by the Apple-Google duopoly. However, Nokia has suffered a drop in feature phone sales during the first quarter, a contraction so stark that rising Lumia sales could not outweigh it. The corporation sold 55.8 million feature phones in the quarter, which was down from 70.8 million year-over-year, sending them to their lowest level in at least 10 years.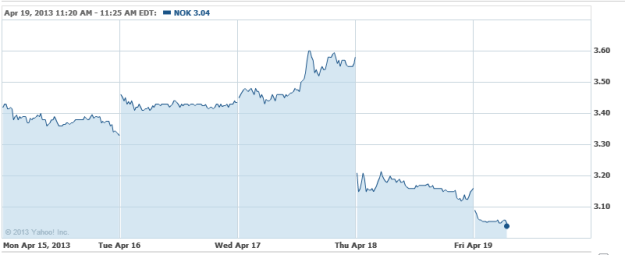 Investing Insights: Is DIRECTV a Bargain Here?