Sprint Gets DISH Offer and 2 More Stocks at 52-Highs on a Blue Monday
Novartis (NYSE:NVS): Closing price $73.58
According to data from the InnoThink Center for Research in Biomedical Innovation, over the past 10 years, 278 new drugs have been approved by the FDA.  One hundred-and-seventy-five of them, or 63 percent of those approvals, came from 41 firms that had a minimum of two new drugs approved during that time period. Novartis comes in third place with 10 new drugs approved, behind Johnson & Johnson and GlaxoSmithKline, with 13 and 11, respectively. Shares closed up 0.45 percent on Monday at $73.58, and have been traded in a 52-week range of $51.20 to $74.22.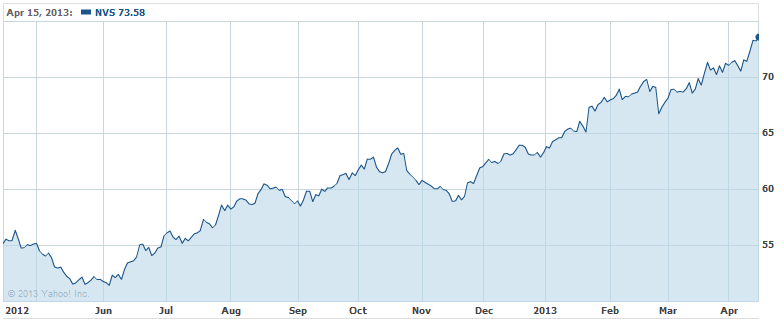 Sprint Nextel Corporation (NYSE:S): Closing price $7.06
DISH Network (NASDAQ:DISH) has offered to acquire Sprint Nextel at a cash-and-stock price of $25.5 billion, a move that could block the proposed purchase of Sprint by Japan's SoftBank. Sprint shares jumped as much as 17.8 percent following the announcement, to their highest level since August 2008, and slightly surpassed the value of the DISH bid. The latter had already made a counter-offer against Sprint for Clearwire Corporation (NASDAQ:CLWR), the wireless firm majority-owned by Sprint. It was also the boldest step thus far by DISH Chairman Charlie Ergen, who has purchased billions of dollars worth of wireless spectrum in the last few years. Shares closed up 13.50 percent on Monday at $7.06, having been traded between $2.30 and $7.23.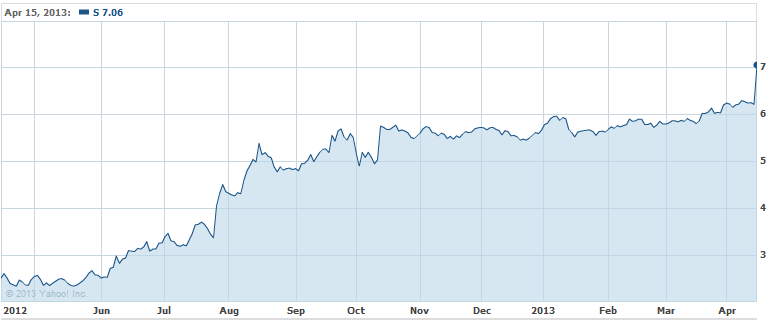 Rambus (NASDAQ:RMBS): Closing price $7.15
On Monday, Rambus announced that it received a "Best Paper Award" for one of the papers it presented at the 2013 DesignCon. The paper, 3D Si Interposer Design and Electrical Performance Study, was awarded in the DesignCon Chip-Level Design category. Shares closed up 3.25 percent on Monday at $7.15, and have been traded in a 52-week range of $2.30 to $7.23.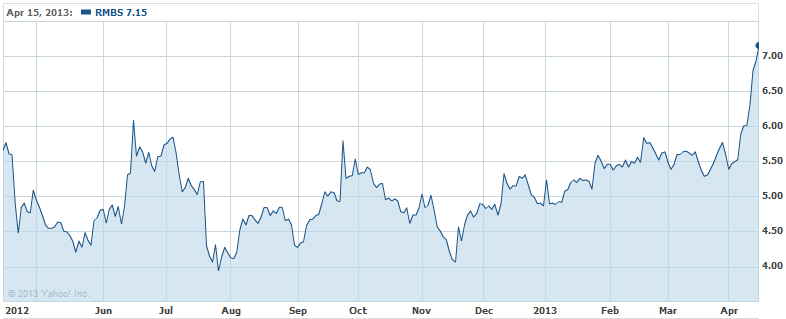 Don't Miss: Time to Get Bearish on the Tech Sector?