Sprint Laments Customers' Lack of Greenness and 2 More Heavily Traded Stocks to Follow
Sprint Nextel Corp. (NYSE:S): Current price $7.35
According to Sprint Chief Executive Dan Hesse, American consumers are so far not demanding sustainable products, like mobile phones made with recycled plastics, which deters companies' efforts to go green. Speaking at The Year Ahead: 2014, a two-day conference in Chicago sponsored by Bloomberg LP, Hesse remarked that, "I wish consumers were demanding us to be greener, because they really haven't yet." He added, "While a growing number of eco-friendly phones are being manufactured, customers aren't asking for them." Back in 2009, Sprint created its first sustainable phone, a model that consumed less energy and featured recycled plastic.

Hewlett-Packard Co. (NYSE:HPQ): Current price $24.96
A knowledgeable source says that Sharp Corp. is mulling a photocopier-business partnership with Hewlett-Packard. The person also said that the parties are still discussing the terms. Meanwhile, Sharp advanced by 7.6 percent, the most since July 2, to close at 299 yen in Tokyo trading. Spokeswoman Miyuki Nakayama reported that, "Negotiations were not announced by the company," as she declined to elaborate. Hewlett-Packard shares were mostly unaffected by the news, but are trading heavily on Wednesday.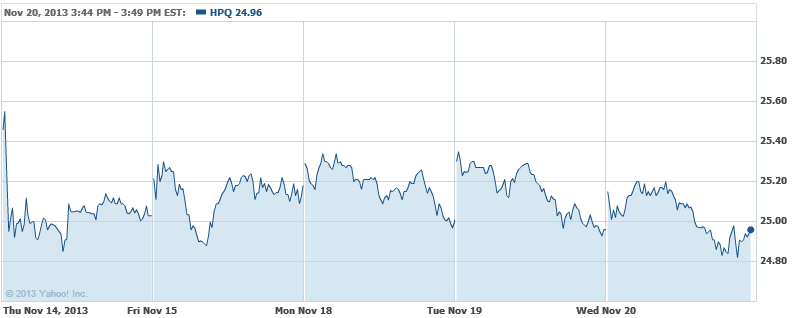 3D Systems (NYSE:DDD): Current price $69.70
On Wednesday, 3D Systems announced that the firm's founder and the inventor of 3D printing Chuck Hull, has received The Economist's prestigious 2013 Innovation Award, honoring significant contributions across eight fields of science, tech, and society. Called the father of 3D printing, Chuck Hull invented and patented Stereolithography, the first ever 3D printing tec, in 1983 and founded 3D Systems in 1986, to help struggling Detroit automakers regain competitiveness by compressing design-to-manufacturing time. Digital editor Tom Standage at The Economist and chairman of the judges who decided the awards, observed that, "We are delighted to recognize the pioneering role Mr. Hull has played in this fast-moving field. 3D printing is a hugely exciting technology that is starting to transform the way things are designed, manufactured and sold."

Don't Miss: What's Wrong With the New PlayStation 4?