Sprint Offers Perks For Small Business Week and 2 Other Hot Stocks to Watch
Sprint Nextel Corporation (NYSE:S): Current price $7.24
As it celebrating National Small Business Week, Sprint is offering special perks to qualifying small businesses, among which include a free Samsung Galaxy SIII and Sierra Wireless 4-gigabyte LTE Tri-Fi Hotspot, with the activation of any new line of service with a two-year agreement during this business week. Beyond that, Sprint recently announced a shopping solution meant for small businesses which facilitates the wireless buying process: Sprint Consultation Centers, which is a complete packaging of wireless assistance in Sprint retail stores customized to small-business requirements. Following an initial assessment, Consultation Center experts are able to develop customized proposals having multiple solution options at various price points that track with the customers' needs.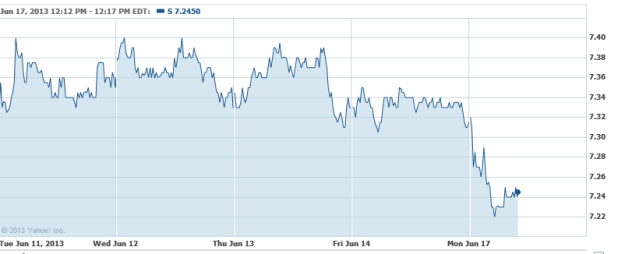 Walter Energy (NYSE:WLT): Current price $11.22
Walter Energy's cancellation of a portion of its existing debt last week has prompted what Davenport is now calling an overreaction, as it believes that the move was due to less favorable recent credit markets, and not an indication that the company was unable to secure a refinancing deal. The analyst anticipates that the firm will be able to modify financial covenants on existing bank debt which would give it additional time to refinance. Meanwhile, Walter Energy shares are rated Buy, along with a $30 price target.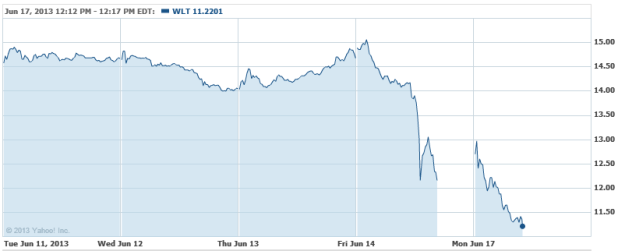 Alpha Natural Resources (NYSE:ANR): Current price $5.58
The most recent steel production out of China have United States coal stocks trading lower, as the stats indicate that output trends declined late last month. The China Iron and Steel Association reported that steel production fell by 4.7 percent from May 21 to the 31, according to SteelOrbis. Further, the Association said that the aggregate daily crude steel output from large and medium-sized Chinese steel producers came to 1.612 million tons, which was down by 4.7 percent when compared to the period between May 11 and the 20.

Don't Miss: Google Starts Testing Project Loon.