Sprint Receives Greenpeace Recognition and 2 Other Hot Stocks To Watch
Sprint Nextel Corporation (NYSE:S): Current price $7.02
Sprint has been recognized by Greenpeace International as the leader among all worldwide telecommunications firms on the 2013 Cool IT Leaderboard. Cisco Systems and Google tied for first place among the IT sector while Sprint was the leader in the telecommunications field. Sprint's work on climate and energy advocacy, alongside its aggressive efforts to lower its emissions and that of its supply chain, led to a number five overall ranking and its first appearance on the list. Greenpeace International's sixth Cool IT Leaderboard evaluated 21 global IT and telecom companies on their leadership in three main areas: the firms' offerings of IT solutions to shrink energy demand throughout the economy; their management of their own energy presences; and whether they employ their influence to push for government policies that encourage the adoption of renewable energy and energy efficiency.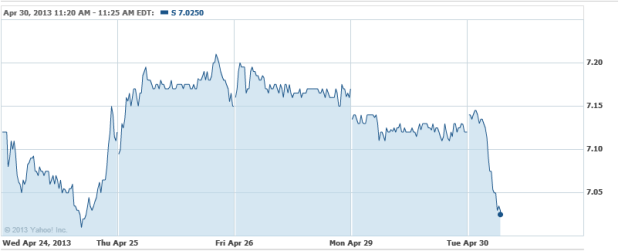 Sirius XM Radio (NASDAQ:SIRI): Current price $3.17
Some four months ago, Sirius XM Radio lost the former Chief Executive Mel Karmazin, and on Tuesday, the satellite radio company announced that his interim replacement Jim Meyer will get the position on a permanent basis. At the same time, Sirius posted its quarterly earnings, which financial metrics continue to show improvement, even though first quarter revenues were somewhat lighter than was anticipated. However, at $897 million, the amount was still a record, and up by 12 percent year-over-year from 2102, while Sitius added another 453,000 subscribers to push its total base to 24.4 million.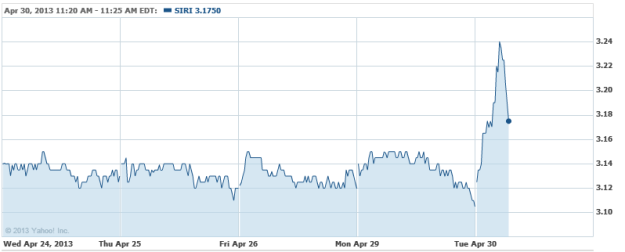 Pfizer (NYSE:PFE): Current price $29.42
Pfizer's first-quarter net income jumped by 53 percent as the world's number-two drugmaker benefited from its joint venture with China. However, Pfizer's results were lower than Wall Street's expectations, and the firm cut its forecast for 2013, causing shares to fall 2.5 percent in reaction. The figures indicate that Pfizer continues to struggle after losing United States patent protection on some of its star drugs that bring in $1 million annually or more, the largest hit being copycat versions of Pfizer's cholesterol fighter Lipitor, which had been the world's best-selling drug for almost ten years, until it lost U.S. exclusivity in 2011 and in much of Europe in 2012.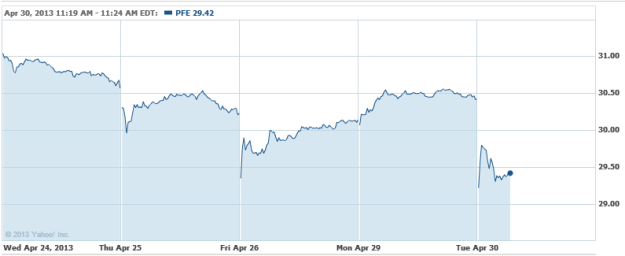 Don't Miss: Durability: The Big Feature Samsung Forgot About.