Sprint Releases Smartphone Sprint Vital Details and 2 More Heavily Traded Stocks To Follow
Sprint Nextel Corporation (NYSE: S): Current price $7.18
The Motley Fool reported on Monday that Sprint has published details of a Sprint-branded smartphone, the Sprint Vital, which will be priced at $100 along with a two-year contract and should be available on Friday. The firm is positioning the product as an "affordable smartphone with all the high-end features." The Vital will be run by the Qualcomm Snapdragon S4 processor that is  found in several high-end devices from 2012, and include 4-gigabyte LTE support. The new phone will feature a 5-inch display, and will run a stock version of Google (NASDAQ: GOOG) Android 4.1.2 Jelly Bean, and feature all of the latter's most popular services such as Search, Gmail, and Maps, among others.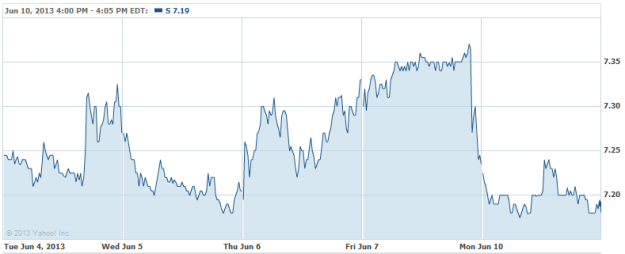 General Electric Company (NYSE:GE): Current price $23.78
The provider of manufacturing operations management software GE Intelligent Platforms, said Monday that it is joining with the PTC PartnerAdvantage program. The parties will work to integrate GE's Proficy software applications with PTC's tech solutions to assist manufacturers in closing the loop between product design and production execution on the shop floor. When a platinum tier member of the PTC PartnerAdvantage program, GE Intelligent Platforms will obtain access to tools for joining its MES applications with PTC Creo design software and PTC Windchill  product lifecycle management software.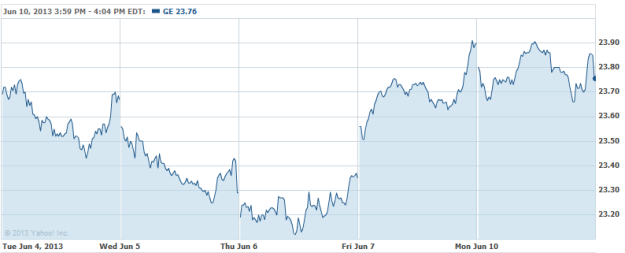 Advanced Micro Devices (NYSE:AMD): Current price $4.06
United States District Judge Timothy Hillman in Worcester, Massachusetts, on Monday turned aside a motion by former employees of Advanced Micro Devices for dismissal of the firm's claims that when they joined competing chipmaker Nvidia Corporation (NASDAQ:NVDA), they leaked trade secrets and pressed ex-colleagues to join them. However, the judge did grant a request to toss a claim of unfair competition. Hillman said in an order refusing most of the defendants' motion that "Plaintiff has demonstrated a likelihood of success on the merits with regard to misappropriation." AMD had accused ex-employees of taking sensitive company documents along when they became employed at Nvidia; in a complaint filed in January, AMD said that the former employees transferred over 100,000 electronic files pertaining to AMD's graphics-processor business in the days prior to  their departure.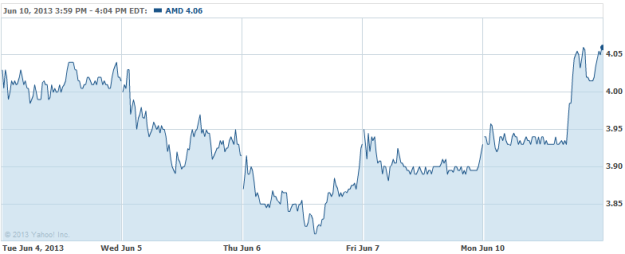 Don't Miss: 5 Most Memorable WWDC Moments From History.