Sprint-SoftBank Deal Is Reportedly Near FCC Approval and 2 Other Hot Stocks to Watch
Sprint Nextel Corporation (NYSE:S): Closing price $7.02
AllThingsD reports that the acting Federal Communications Commission chairwoman Mignon Clyburn is getting the body ready for a vote on the deal through which SoftBank will acquire 78 percent of Sprint, and Sprint purchase the shares of Clearwire that it does not already own. Through a statement, Clyburn said that "SoftBank, Sprint, and Clearwire requested that the Federal Communications Commission approve their applications for transfer of control. At my direction, earlier today, staff circulated a proposed Order to the full Commission for a vote." Sources have told AllThingsD that the vote could occur as soon as Friday.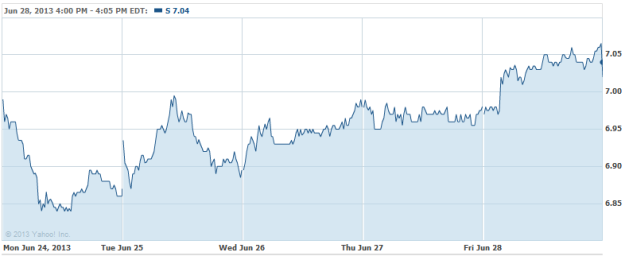 BlackBerry (NASDAQ:BBRY): Closing price $10.46
Shares of BlackBerry maker Research In Motion have tumbled more than 25 percent mid-morning Friday, after the firm posted a surprise loss and an outlook towards an operating loss in the second quarter as well, in the face of releasing its new smartphones this year. Not helping the situation was the company's announcement that it is pretty much discontinuing making new versions of its tablet device, the Playbook. Analysts had been expecting some color on the sales of phones running RIM's new Blackberry 10 operating system, and what they heard was not reassuring: RIM said that it sold 6.8 million phones overall compared year-over-year with 7.8 million in 2012, which includes older models. In the conference call, the company said that around 2.7 million new devices were Blackberry 10 models.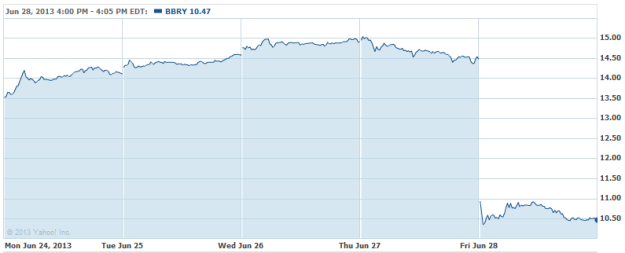 Pfizer (NYSE:PFE): Closing price $28.01
The drugmaker has reported that it will repurchase $10 billion in shares after announcing earlier in the week that it will retire roughly $11.4 billion in shares through the spinoff of its animal health division. The buyback marks the fourth major share repurchase program for Pfizer in the past two and one-half years. In that period, the firm has announced $39 billion in share buybacks, including Friday's, and in a statement said that it has $3.9 billion left on its current repurchase program. Chief Executive Ian Read has said that buying shares back is the best uses of Pfizer's cash, versus acquisitions or hiking the dividend.