Sprint to Slash 800 Customer Service Jobs and 2 More Heavily Traded Stocks to Follow
Sprint Nextel Corp. (NYSE:S): Current price $6.74
No longer requiring as many customer service personnel, Sprint said that it will eliminate some 800 customer-service jobs, marking the biggest employee reduction since SoftBank Corp. acquired the controlling interest in the carrier in July. It was said that customer complaints have declined and satisfaction levels are up — so that fewer positions are needed, as there are also fewer users to serve. Sprint closed its Nextel network in June as part of a plan to remake its tech, which helped lead to a loss of 1.05 million monthly subscribers during the second quarter.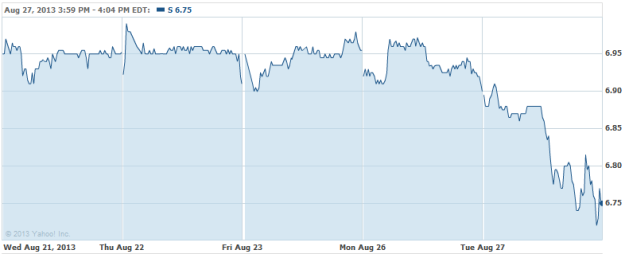 Bank of America Corp. (NYSE:BAC): Current price $14.12
On Tuesday, United States District Judge Jed Rakoff in Manhattan decided that Bank of America must face a trial in September over a lawsuit that claims that its Countrywide division defrauded Fannie Mae and Freddie Mac by selling them billions of dollars in bad mortgages. Rakoff issued a ruling that turned aside the bank's request to dismiss the case, setting it up for a trial to begin September 23.
In a one-page order, the judge said that, "The court concludes that there remain genuine factual disputes that, on at least one or more of the government's theories, precludes the granting of summary judgment to any defendant," and that he will file a full opinion later.
Last October, the United States sued BofA, intervening in a whistle-blower action originally filed by the former Countrywide executive Edward O'Donnell. The government said that Bank of America and Countrywide sold thousands of defective loans from 2007 to 2009 to the home-mortgage finance firms.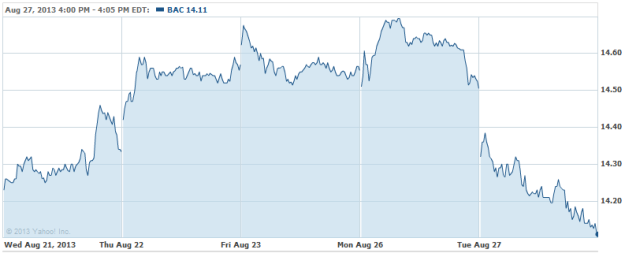 Ford Motor Co. (NYSE:F): Current price $15.88
Ford's European chief Stephen Odell was quoted by a German newspaper as saying that he expects that the European car market could take five to six years to recover, observing that, "There are indications that an end of the decline may come in the second half of this year. However, a recovery of the market, we estimate, will take at least five to six years," to the Frankfurter Allgemeine Zeitung.
Beyond that, Odell said Ford maintains its sales forecast of 13.5 million vehicles in 19 western European nations for 2013, which is far below 2007 levels when 18 million vehicles were sold. He also said that he still anticipates a $1.8 billion loss in Europe for the year.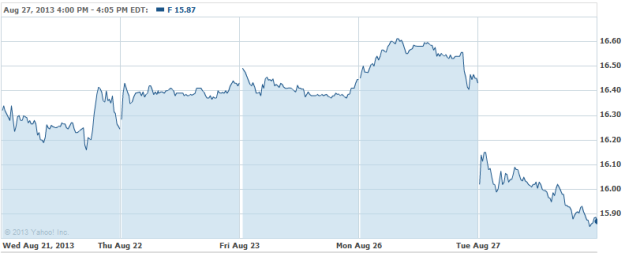 Don't Miss: Don't Let Confusion Ruin Your Retirement Chances.