Sprint Will Offer HTC One Max Smartphone and 2 Other Hot Stocks to Watch
Sprint Nextel Corp. (NYSE:S): Current price $6.29
On Wednesday, Sprint said that by the end of 2013 it will offer HTC One Max smartphone to customers. It is expected that the new device will support 4G LTE data plans, and thus remain accretive to its data revenues. The corporation holds an impressive collection of smartphones such as USB modems, Android, tablets, hotspots, and routers, all of which are performing well in the market. Smartphones comprise 86 percent of the Sprint platform's post-paid sales.
Citigroup Inc. (NYSE:C): Current price $50.61
In the Global Investor/ISF annual Equity Lending Survey, Citi's OpenLend placed number one for Emerging Markets Securities Lending Capability for the fourth consecutive year, and first for Emerging Markets Securities Lending Breadth of Supply for the second consecutive year. Beyond that, Citi received the first place ranking in Regional Lending in the Americas and Asia Pacific along with a number one ranking for Stability of Supply and Coordination between Internal Desks categories.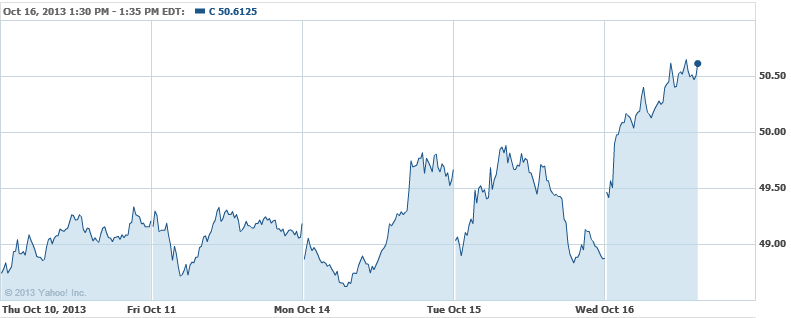 Ford Motor Co. (NYSE:F): Current price $17.25
Ford continues to expand the employment of near-dry machining, also known as Minimum Quantity Lubrication or MQL, which considerably lowers water and oil use, and enhances plant air quality by removing the airborne mist produced by traditional wet machining. Ford presently has six plants in North America, Asia Pacific and Europe which have implemented the MQL process. MQL supplants the use of large quantities of conventional metal-working fluids, and provides an equal amount of lubrication with far less environmental waste.

Don't Miss: Netflix Unveils New Alliances and a New Show.