Sprint's Soft Quarter, Boeing Books a Big Order, and 3 More Hot Stocks
Sprint Corp. (NYSE:S): Sprint shares are up nearly 3 percent as revenue of $8.87 beat expectations by $180 million. The quarter saw the best Sprint platform post-paid ARPU of $64.20 and the 11th consecutive quarter of year-over-year growth. However, the network suffered a $1.6 billion loss and lost 2 million subscribers after the company shut down the Nextel network. The company is now looking to the second half of the year under its new owner, Softbank, to help boost its performance.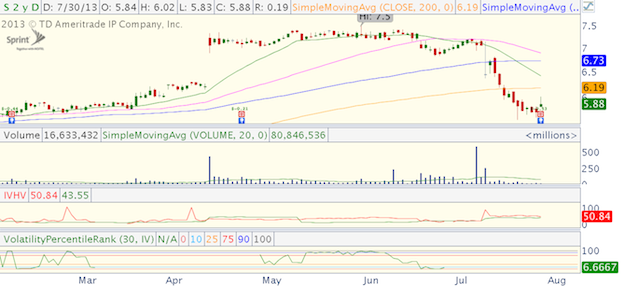 Boeing Co. (NYSE:BA): Undeterred from its experiences with the 787 Dreamliner, Japan's ANA has placed an order worth $1.13 billion based on the airplane maker's list prices for three Boeing Co 777-300ER jets and one 767 cargo aircraft. Boeing has not yet assigned a price for the next generation of 777, which will use 20 percent less fuel per seat. The company is finding it exceptionally difficult to forecast what oil prices will do and how big a saving airlines will be able to make, especially as the 777X won't be delivered until 2020.
JPMorgan Chase (NYSE:JPM): The Federal Energy Regulatory Commission has approved a settlement of "$410 million in penalties and disgorgement to ratepayers" after allegations that the bank's JPMorgan Ventures Energy Corporation manipulated the energy markets in California and the Midwest. The latter will pay a civil penalty of $285 million to the U.S. Treasury and disgorge $125 million in unjust profits.

Discovery Communications Inc. (NASDAQ:DISCA): Shares are down over 4 percent as Discovery logged misses on both EPS (82 cents, missing by 8 cents) and revenue ($1.47 billion, missing by $0.01 billion). However, the free cash flow increased 125 percent to $311 million as net income increased to $300 million.
Corning (NYSE:GLW): Despite beats for both earnings per share and revenue, Corning shares are nosing downward even as the company reported a fairly substantial quarter. Sales for the second quarter remained solid, with Display Technologies (TV glass, etc.) surging 21 percent and Telecom sales up 8 percent.  The company saw a 100 bps jump in the gross margin year-over-year (flat quarter-over-quarter) and repurchased $272 million worth of stock.
Don't Miss: Sprint Earnings: Nextel Closing Costed Company Big Bucks.