Standard & Poor's: Gold Bugs, BEWARE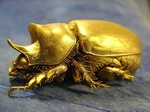 Standard & Poor's report, "High Prices Mask a Difficult Future for Gold Miners," warns that the end of a golden era is nigh.  S&P believes gold miners (NYSEARCA:GDXJ) could face pressure on their underlying credit ratings to such an extent that new projects could be limited, investment reduced, and many existing operations shut down.
Don't Miss: Will This TRICK Help J.C. Penney Lure in New Customers?
Gold miners have have been shielded against high extraction costs by equally high gold prices in recent years.  But that will not last.  In the report, S&P notes that production, which currently stands at a combined 27 million ounces annually, will increase in the single-digits through the next two or three years, but begin to decline thereafter.  Mirroring S&P's concerns, this week's Denver Gold Forum 2012 announced that new major gold veins are becoming more difficult to find and many quality reserves have been tapped.
As gold (NYSEARCA:GLD) reserves decrease, miners will feel the increased production costs of 10 to 15 percent brought on by the commodities boom.  In addition to the limited number of quality veins that will be increasingly expensive to tap, gold miners will have no guarantees that the price of gold will stay high.
The report suggested a potential bubble in the gold market.  "Gold prices tend to be volatile and unpredictable," said the report.   "It is impossible to assume that demand from investors, which currently makes up 50 percent of total gold demand, will be sustainable over time."
S&P believes that major gold miners have enough financial flexibility to handle low gold prices for 12 to 18 months.  For existing production, extracting a single ounce of gold costs miners $150 to $200, but changes in capital expenditure plans could drive extraction costs up to $1,000 or $1,100 per ounce.  If gold prices drop to $1,200 or lower and extraction costs rise, miners' profitability will be compromised.
Curious about making money with gold? Don't waste another minute — check out our highly acclaimed Gold & Silver Newsletter now.