Staples and RadioShack Slam the Door on Amazon Lockers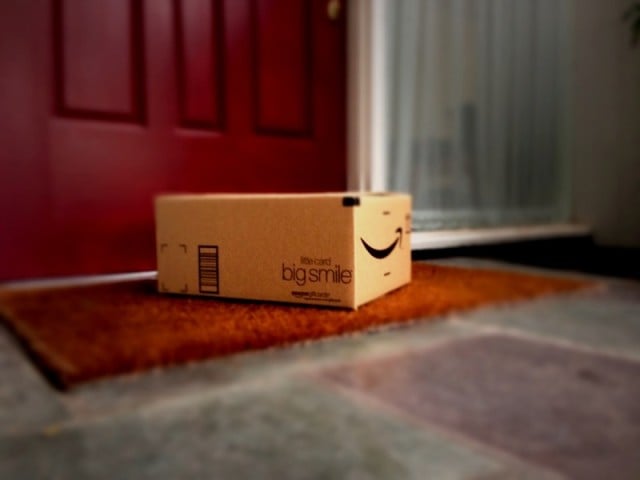 You know certain retailers are struggling when they're willing to help the cause of another competitor in order to simply bring consumers into their stores. That's the strategy that both Staples (NASDAQ:SPLS) and RadioShack (NYSE:RSH) employed when they agreed to carry Amazon.com (NASDAQ:AMZN) lockers in their stores, but now Bloomberg reports that they're ready to take a stand and face their losses on their own terms, because both retailers have decided to walk away from their partnership with the e-commerce giant.
In 2011, Amazon rolled out a program called Amazon Lockers that allows its shoppers to place their orders on the Web and then pick up their Amazon products at participating retailers. Now in its second year, it is still an especially appealing deal to consumers because it decreases the risk of their packages getting lost or stolen via delivery, and it also makes them more convenient for pick-up.
The only way that the program can work, however, is if Amazon is able to partner up with brick-and-mortar retailers willing to house the products, and although the online retailer intially won some takers, two of its leading companies are now walking away from the deal.
From the get-go, it confused many analysts that Staples and RadioShack would agree to carry Amazon products, especially considering the online retailer giant is one of the two chains' biggest competitors.
Both Staples and RadioShack have suffered sliding sales as evidenced by their revenue losses in the past six quarters, and although Amazon isn't their only current issue, the growing popularity of online retail certainly isn't helping their causes.
But their sales declines are actually what drew them to the partnership in the first place, and that's because Amazon maintained throughout the negotiating process that Amazon Lockers would actually help drive the two chains' business. More and more consumers would be entering their stores in order to pick up their online-purchased merchandise, and thus, would be more likely to make an impulse buy within a Staples or RadioShack store.
The two chain's participation in the program evidences the fact that they were initially convinced. However, Bloomberg now reports that the luster of the new compromise has officially worn off and Staples and RadioShack are pulling the Amazon products from their shelves. Staples asserts that the test with Amazon "didn't meet the criteria we set up together," while a spokeswoman for RadioShack shares the same sentiments, explaining the program didn't fit with the company's strategy.
Amazon declined to comment on the two company's departure from their agreement, and it is still unclear whether Amazon Lockers will continue to thrive without participation from its initial partnering retailers. Amazon has not only taken sales from Staples as it sells more office and school supplies, but it also continues to undercut RadioShack's deals on selection and price. So while the two retailers may retain their regard for Amazon as they end the partnership, they probably aren't all that sad to see their competitors' boxes go.
Don't Miss: 7 New Movies to Be on the Lookout for this Weekend.