Staples, Inc. Earnings Cheat Sheet: Falls Short of Estimates, Shares Drop
S&P 500 (NYSE:SPY) component Staples, Inc. (NASDAQ:SPLS) reported its results for the first quarter. Staples, Inc. is an office products company with segments of: North American Delivery, North American Retail and International Operations.
Don't Miss: Wall St. Cheat Sheet's newest Feature Trades of the Month!
Staples Earnings Cheat Sheet for the First Quarter
Results: Net income for Staples, Inc. rose to $198.2 million (28 cents/share) vs. $188.8 (26 cents/share). A rise of 5% from the year earlier quarter.
Revenue: Rose 2% to $6.17 billion YoY.
Actual vs. Wall St. Expectations: SPLS fell short of the mean analyst estimate of 32 cents/share. Estimates ranged from 28 cents per share to 33 cents per share.
Quoting Management: "Our first quarter results show that we're making good progress on our key growth initiatives and we're gaining share in North America, but at a cost to our bottom line," said Ron Sargent, Staples' chairman and chief executive officer.
Competitors to Watch: OfficeMax Incorporated (NYSE:OMX), Office Depot, Inc. (NYSE:ODP), Walgreen (NYSE:WAG), CVS (NYSE:CVS), Target (NYSE:TGT), Wal-Mart (NYSE:WMT), Best Buy (NYSE:BBY), Williams-Sonoma (NYSE:WSM), Bed, Bath & Beyone (NASDAQ:BBBY), Stamps.com Inc. (NASDAQ:STMP) and United Stationers Inc. (NASDAQ:USTR).
Stock Performance: Shares of SPLS are down 11.55% this morning from the previous close of $19.65.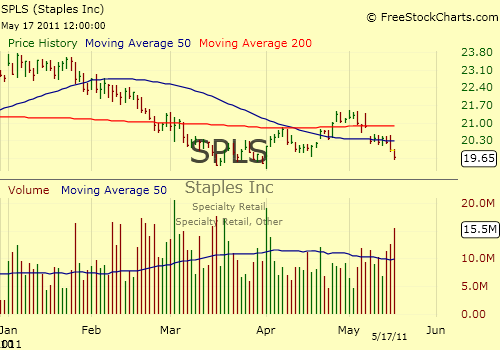 Don't Miss Wall St. Cheat Sheet's newest Feature Trades of the Month!