Staples Launches Sports & Art Photo Gallery and 2 More Heavily Traded Stocks to Follow
Staples (NASDAQ:SPLS): Current price $14.51
Staples has introduced its new Sports & Art Photo Gallery, which gives consumers quick, affordable, and beautiful over-sized prints, through which to facilitate finding gifts or home design. The new digital library of licensed professional photographs sets the Staples Sports and Art Photo Gallery up as an industry-first photo content and same-day service destination. The Gallery permits customers in Staples stores to choose, buy, and print a large array of licensed photos, among which include the National Football League, National Basketball Association, Landscapes, and Fine Art collection.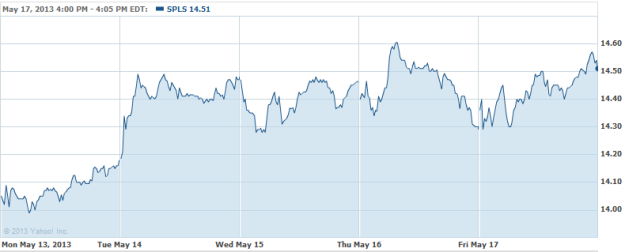 Clearwire Corporation (NASDAQ:CLWR): Current price $3.20
It is anticipated that Clearwire shareholders will vote down a buy-out offer from Sprint Nextel Corporation (NYSE:S) next week, forcing the number-three domestic wireless firm to shell out more dollars for control of Clearwire's valuable spectrum. Presently, Sprint owns in excess of 50 percent of Clearwire and has offered to acquire the remaining approximate 49 percent at $2.97 per share, or a total of $2.2 billion. For the deal to go forward, it requires approval from more than 50 percent of minority shareholders at a special meeting set for Monday.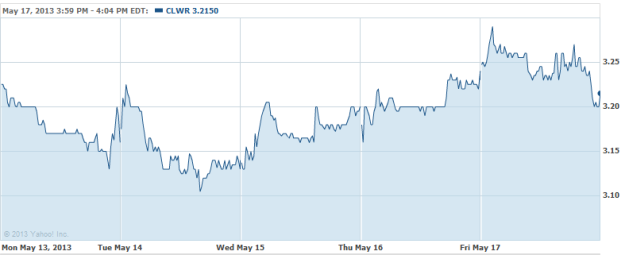 Gilead Sciences (NASDAQ:GILD): Current price $56.30
Late Wednesday, Gilead reported results from the evaluation of an experimental drug for leukemia that shrank tumors in over half the patients tested. The tablet, Idelalisib, is a treatment for patients suffering with chronic  lymphocytic leukemia, the second most common form of leukemia in the United States, that can lead to life-threatening complications. The early-stage, Phase II trial marks a new move by Gilead into oncology by the largest provider of HIV medications. Based on the test results, Gilead is now exploring further study of the drug, said a company press release.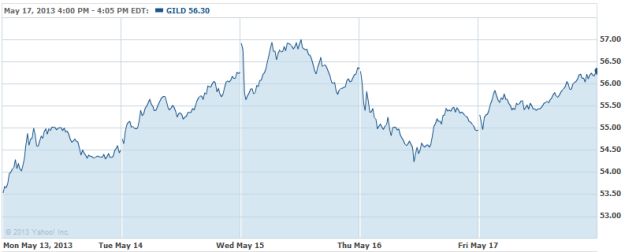 Don't Miss: Consumer Sentiment Hits Highest Level Since July 2007.