Starboard Couldn't Find Anyone Hungry for Smithfield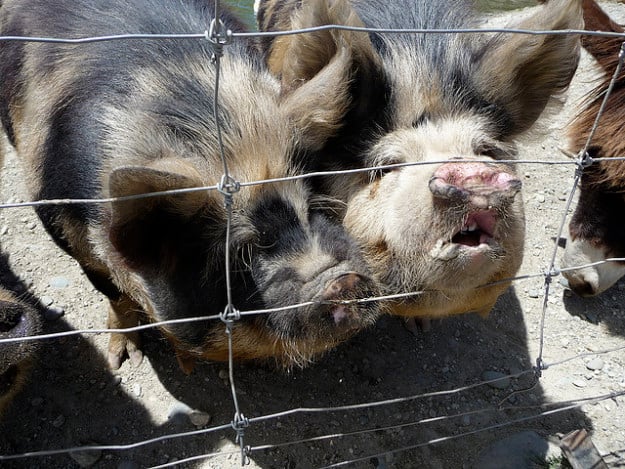 While the upcoming $4.7 billion deal between Smithfield Foods (NYSE:SFD) and Shuanghui International has received plenty of opposition from lawmakers, farmers, consumers, and food safety groups, its biggest opponent was Smithfield shareholder Starboard Value. Starboard believes Smithfield could have gotten much more than the $34 per share offered by Shuanghui had the world's largest producer of pork decided to split up.
But Starboard has been unable to find a better offer for Smithfield and so will support the Shuanghui acquisition, the largest Chinese takeover of a U.S. company, at a shareholder vote next week, The Wall Street Journal reports.
"In light of the restrictions imposed by the merger agreement between the Issuer and Shuanghui, and the requirement of structuring a cash bid from a single entity, it proved challenging for the bidder group to formalize and deliver an alternative proposal prior to the special meeting," Starboard said in a filing seen by the Journal on Friday. "While we are confident that the Issuer could have received value in excess of that available pursuant to the Proposed Merger, we are not able to offer shareholders an alternative proposal at this time."
Starboard first expressed its disapproval of the deal in June, saying that it believed Smithfield could get between $45 and $55 per share if the company split itself up. The activist investor owns a 5.7 percent stake in Smithfield. Another former investor, ContiGroup Cos., also called for the company to split, but instead decided to sell its entire stake in Smithfield after plans for the acquisition were announced.
On September 6, Smithfield and Shuanghui received approval for the acquisition from the U.S. Committee on Foreign Investment. The group's decision on the matter was complicated by complaints from the U.S. Agriculture Committee and food safety watchdogs that believed the deal would compromise U.S. national security and food safety. Smithfield promised that it would only export meat to China through the deal, and that no meat from China would be imported into the U.S.
After taking an elongated 45 days to explore the deal, the Committee on Foreign Investment gave approval despite varied opposition. That was the last major regulatory hurdle the deal had to cross. Now Smithfield and Shuanghui just need shareholder approval, and with Starboard's inability to find another buyer, the acquisition is likely to get the approval needed.
Follow Jacqueline on Twitter @Jacqui_WSCS