Starbucks Dominates Coffee Talk on Social Media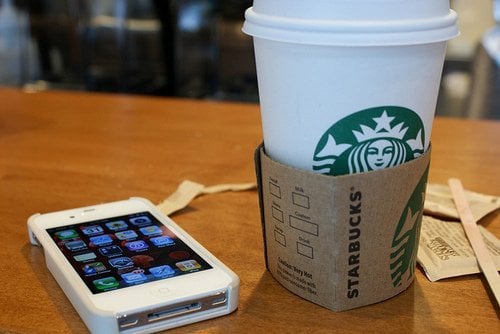 Starbucks (NASDAQ:SBUX) was a pioneer of connecting with its customers through social media and now dominates the coffee conversation online. The company uses its social media channels to communicate promotions to its loyal customer base and engage in conversations. Marketing is no-longer a one-way channel — social media changed that.
There are three primary uses for businesses using social media: customer service, promotion, and communication. There is definite overlap between these three categories but enough of a difference to warrant each its own label. Starbucks is the world's largest coffee shop chain and receives its fair share of customer complaints. Thanks to Twitter and Facebook, customers do not have to hunt down the phone number to their local Starbucks to let the company know their latest experience with the Starbucks brand did not go as well as hoped. They can just send an angry tweet @Starbucks.
The use of social media for customer service alone is big business. Take for example Comcast (NASDAQ:CMCSA). Comcast has long had a serious image problem. The solution? @ComcastCares on Twitter. Frank Eliason — a pioneer of using social media for customer service — used the Twitter profile as a new way to get customers to interact with the company's customer service. As a Comcast customer myself, I can attest to the fact that @ComcastCares provides better, faster and ultimately far more satisfying customer service than the company's maze of phone numbers. Thanks to his pioneering work, Eliason is now the director of global social media at Citi (NYSE:C).
Company promotions through social media are a big part of Starbucks's game plan for the medium. Take the tweet below for example. It was retweeted more than 9,000 times — potentially reaching hundreds of thousands of people who may not even follow the company on Twitter. Most companies would have to spend big bucks on a national television campaign to receive this kind of exposure. For Starbucks, promotions like these are almost free (minus the promoted discount for customers obviously).
How does Starbucks stack up against its coffee competition? Amazingly well actually. The company is more popular than McDonald's (NYSE:MCD) on social media. Dunkin Donuts (NASDAQ:DNKN) trails far behind its competitors. Of course, likes and follows do not translate directly into sales.
When the social media figures are broken down by revenue, a different picture is painted. McDonald's earns approximately $923 for each of its Twitter followers and Facebook likes. Starbucks earns approximately $365. Dunkin Donuts sits far back in third place again, earning approximately $68.
However, social media likes and followers are only part of the picture. Starbucks does not actually earn any revenue directly from its impressive social media profile. Customers still have to head over to their local Starbucks and buy a cup of coffee for the company to make a sale. Because of that, McDonald's and Dunkin Donuts have a chance. Just because their social media profiles are not as popular online does not mean Starbucks is going to take over the industry. Social media is just one marketing channel — though an increasingly important one. Starbucks is in very good shape heading into the future.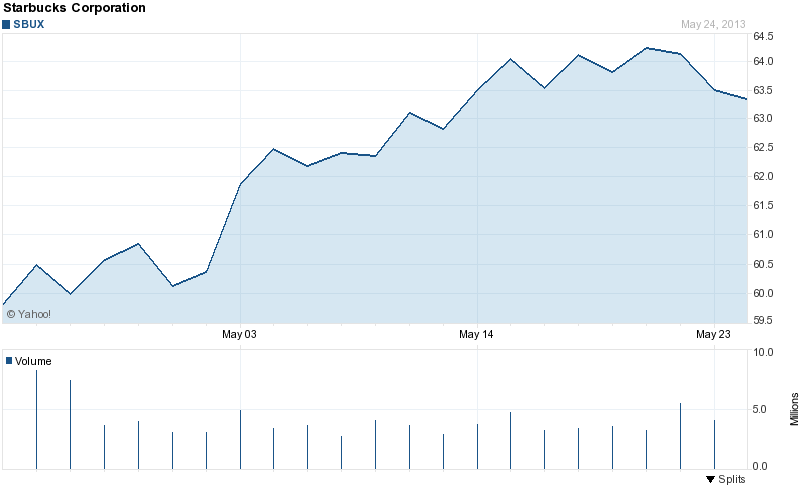 Graph courtesy of Yahoo! Finance
Follow Mont on Twitter @mfcessna
Don't Miss: Can Lafley Succeed Where McDonald Failed At P&G?