Starbucks Earnings: Inline with Estimate is Not a Grande Announcement
S&P 500 (NYSE:SPY) component Starbucks Corporation (NASDAQ:SBUX) reported its results for the second quarter. Starbucks Corporation purchases, roasts and sells whole bean coffees, along with brewed coffees, Italian-style espresso beverages, cold blended beverages and a selection of accessories.
Don't Miss: Wall St. Cheat Sheet's newest Feature Trades of the Month!
Starbucks Earnings Cheat Sheet for the Second Quarter
Results: Net income for the specialty eatery rose to $261.6 million (34 cents/share) vs. $217.3 million (28 cents/share) in the same quarter a year earlier. A rise of 20.4% from the year earlier quarter.
Revenue: Rose 9.9% to $2.79 billion YoY.
Actual vs. Wall St. Expectations: SBUX fell right in step with the street's estimates of 34 cents/share.
Quoting Management: "Starbucks record fiscal second quarter results reflect solid performance and execution across all of our businesses," said Howard Schultz, chairman, president and ceo. "Our sales, traffic and customer trends all point to the expanding power of the Starbucks business and brand. And our 40th anniversary celebration continues to resonate around the world, driving strong engagement among our partners and our customers. I saw this firsthand in China, where my visit this week confirmed how ideally-positioned Starbucks is to profitably grow its store presence across China in the years ahead," added Schultz.
Key Stats:
The company has now seen net income rise in three-straight quarters. In the first quarter, net income rose 43.5% and in the fourth quarter of the last fiscal year, the figure rose 85.9%.
Over the last five quarters, revenue has increased 7% on average year over year. The biggest increase came in the third quarter of the last fiscal year, when revenue rose 29.7% from the year earlier quarter.
Competitors to Watch: Einstein Noah Restaurant Group, Inc. (NASDAQ:BAGL), Panera Bread Company (NASDAQ:PNRA), Caribou Coffee Co., Inc. (NASDAQ:CBOU), Peet's Coffee & Tea, Inc. (NASDAQ:PEET), McDonald's Corporation (NYSE:MCD), Kahala Corp. (KAHL), Yum! Brands, Inc. (NYSE:YUM), and Green Mountain Coffee Roasters Inc. (NASDAQ:GMCR).
Today's Performance: Shares of SBUX are down close to 2% in after hours trading.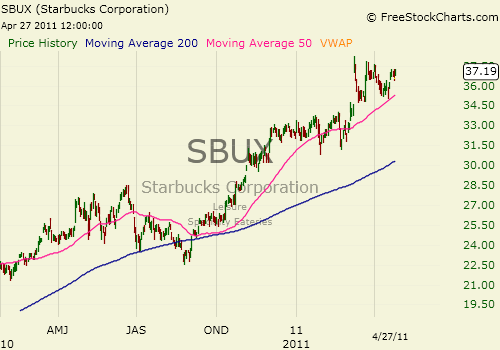 Don't Miss Wall St. Cheat Sheet's newest Feature Trades of the Month!