Starbucks Is Raising Prices, GM Raises Gas Mileage: Market Recap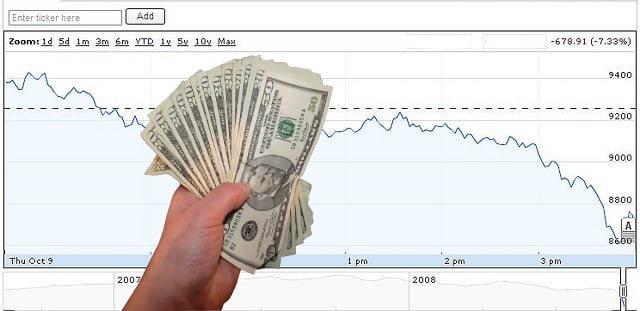 U.S. stocks bounced back today after the S&P 500 saw its biggest decline since 2011 on Thursday after Federal Reserve Chairman Ben Bernanke announced the central bank would start curbing stimulus by the middle of next year. Economists are forecasting that the Fed will start tapering stimulus by the fall, and stop buying bonds completely by June 2014.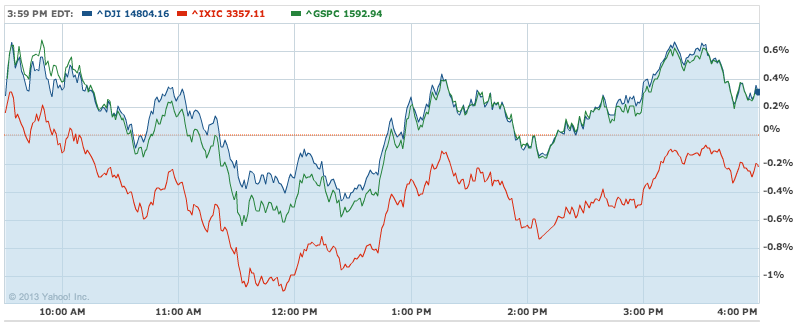 Gold: +0.37% to $1,290.70 per ounce  Oil: -0.13% to $94.19  U.S. 10-Year: +3.93 to 2.514%
Investor Optimism Soared Just Before Markets Tumbled: Federal Reserve Chairman Ben Bernanke indicated Wednesday that the central bank may phase out stimulus, a move that sent U.S. stocks into the red for two consecutive days and the Standard & Poor's 500 Index down more than 5 percent from a record high. But before the Federal Open Market Committee stirred up investors' fears, the stock market had traced out a seemingly-endless rally… (Read more.)
Want to Grow the Economy? Fix Immigration, Says Boehner: Jay Timmons, president and CEO of the National Association of Manufacturers, helped lead a summit in Washington, D.C. this week attended by more than 500 manufacturers and congressional policymakers. The summit was an opportunity for leaders of manufacturing to meet with policymakers and discuss the biggest issues facing the industry… (Read more.)
Will Young People Jeopardize the Success of Obamacare?: When the constitutionality of the Affordable Care Act was under debate in the Supreme Court last year, Justice Samuel Alito highlighted a problem with Obamacare that could ultimately jeopardize the entire viability of the system of insurance exchanges. He pointed out that young, healthy adults currently spend an average of $854 a year on healthcare. However, Obamacare would require them to purchase insurance policies expected to cost roughly $5,800… (Read more.)
Here's your cheat sheet to today's top stock stories: 
General Motors (NYSE:GM) will release its new line of pickup trucks later this year under the Chevrolet Silverado and GMC Sierra nameplates, and the redesigned units will be available with a 4.3 litre EcoTec3 V6  option, which will help boost fuel efficiency to a point that surpasses Ford's (NYSE:F) entry 3.7 litre V6, the company says. Albeit quite marginal, the GM unit does indeed boast a one mile-per-gallon advantage in combined fuel economy… (Read more.)
Starbucks Corp.'s (NASDAQ:SBUX) menu boards will soon not be a pretty sight for coffee drinkers. Because not only will the coffee chain soon be posting calorie counts next to drink and food items on its menu, the company will also increase prices on some of its beverages by a national average of 1 percent. Gulp… (Read more.)
Google (NASDAQ:GOOG) is rumored to be working on an addition to Google+ that would allow Google+ users to keep track of their personal belongings, write reviews on recently purchased items, and share stuff with friends. The service, called Google Mine, is meant to help users share real-world items like bikes, clothes, shoes, or even cars. Users will be able to categorize items based on how long they are available for borrowing, or if the item is being given away… (Read more.)
Wal-Mart's (NYSE:WMT) $15.6 billion 401k program, the largest private sector retirement plan in the United States, could be changing soon. Three sources familiar with the situation told the publication that the retailer is considering bids from retirement plan managers, a sign that the company could be considering a move from Bank of America's Merrill Lynch, the unit that has administered its program for the past 15 years. Already, according the sources, the company is in talks with Wells Fargo's retirement division… (Read more.)
Morgan Stanley (NYSE:MS) has gotten regulatory approval to buy the remaining portion of Smith Barney — a wealth management joint venture with Citigroup (NYSE:C) — that it does not already own. "This is a historic day for Morgan Stanley," the investment bank's Chief Executive Officer James Gorman said in the statement announcing the final piece of regulatory red tape had been resolved in its purchase of Smith Barney… (Read more.)
Sprint Nextel Corp.'s (NYSE:S) acquisition by SoftBank will likely be completed by July, SoftBank CEO Masayoshi Son said at the company's annual shareholder meeting in Tokyo. Son's announcement comes after rival bidder Dish Network (NASDAQ:DISH) dropped out of the fight for Sprint, missing the June 18 deadline to make its best and final offer… (Read more.)
Don't Miss: Can a $200 Million Investment Help Toyota in America?
Follow Jacqueline on Twitter @Jacqui_WSCS