Starbucks Is Ready to Caffeinate This New Market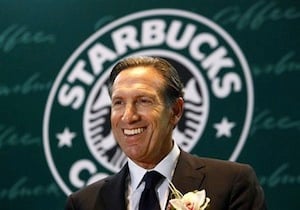 Myanmar's population may just be the next passengers to jump aboard the Starbucks (NASDAQ:SBUX) bandwagon. As U.S. companies are increasingly turning toward Asia for growth, it comes as little surprise that Starbucks is looking to caffeinate Myanmar's people soon, too.
As The Associated Press reports, the state in Southeast Asia has been "attracting interest from foreign companies and investors after economic and political reforms that have resulted in the European Union dropping sanctions against the country and the U.S. easing them," and Starbucks CEO Howard Shultz appears eager to take advantage of this.
On Monday, he expressed interest in expanding Starbucks into Myanmar within the next couple of years. The American's global coffee company's success in both of its new stores in India and China has sparked Starbucks's confidence in how it can perform in other places in Southeast Asia.
Starbucks opened its first store  in India last year, and if its debut in Myanmar is anything like it was in its first stores in India, the Myanmar people should be prepared to wait. In October of 2012, the New Statesmen reported Starbucks's booming beginning in Mumbai, describing hour-long waits and lines out the door that ceased to dwindle. Similarly, Starbucks has seen unprecedented success in China, a market where many other companies struggle, but where the coffee chain manages to boom. China is even expected to be Starbucks's second largest market by 2015, as the International Business Times reports.
It is likely that Starbucks will implement similar strategies for success in Myanmar. By catering to local tastes and adapting its business model to fit its hosts, the coffeehouse chain expects to also attract and please the Myanmar people.
Shultz not only revealed a prospective opening of Starbucks in Myanmar on Monday, but he also embarked on a weeklong visit to Thailand to celebrate the fifteenth anniversary of its opening and announce the opening of Starbucks's so-called community store there, the first outside of the United States. He explained that "Starbucks has a long history of helping neighborhoods where it does business….and the community store concept, based on profit-sharing, is an extension of that business." Starbucks's three other community stores are in Los Angeles, New York City, and Houston.
Don't Miss: These New McDonald's Items Are Replacing the Angus Burger.