Starbucks' Schultz: Obamacare Execution Is "Off the Rails"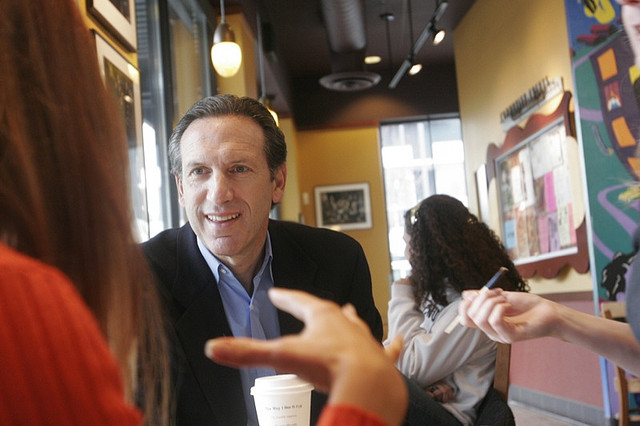 It's no secret that Starbucks (NASDAQ:SBUX) CEO Howard Schultz isn't shy about his political beliefs. On more than one occasion, the executive has stepped up to voice his opinion about a handful of political crises, and he was especially outspoken during the partial government shutdown. Back in earlier October, Schultz not only called on prominent business executives to channel their power and vocalize the need to end the shutdown, he also distributed petitions to customers himself, urging them to pressure the government to end the political stalemate.
Now, the government has reopened, but the CEO isn't done talking — and his latest complaint involves the recent controversy surrounding Obamacare and its number of glitches. Schultz was interviewed by CNBC's Maria Bartiromo Wednesday, and during his time on the air, he explained how his support of the health law has turned stale on account of its poor execution. He told CNBC that, "Unfortunately, in this kind of situation, execution trumps strategy. It might be a great strategy, but the execution is really flawed. It's off the rails."
The statement is surprising coming from Schultz, considering he has long been a firm supporter of President Barack Obama's health law. This reality is highlighted by the Huffington Post, which reports that he described the Affordable Care Act as a "good thing for the country" back in September in a separate interview with Bartiromo, and that sentiment has continued since the law's origination. Wednesday, however, showed a shift in opinion for Schultz, and as the CEO clearly expressed his disappointment with the law's implementation Wednesday, the polls show that he is not alone.
President Obama may not have heard Schultz's interview on CNBC Wednesday, but the CEO didn't say much that the Commander-in-Chief hasn't already heard before. Obama has especially been under the microscope lately as he navigates the glitches and defects of his once-lauded system, but according to the Post, a senior adviser to the president promised last Friday that the system's site will work smoothly by late November.
Schultz also expressed the need for government transparency Wednesday, asserting that, "What the country needs now is real honesty and transparency and truth about what's really going on," but it is still unclear whether his requests will be granted.
The CEO has been praised for using his clout to fight for the political causes he believes in, but this is one battle Schultz recognizes he may not win. His comments come on the same day that Starbucks released its fiscal fourth-quarter earnings report, and luckily, those results were something Schultz could celebrate.
Don't Miss: The 10 Least Reliable Car & Truck Brands.