Starbucks Serves Up Better-Than-Expected Results, Lifts Forecast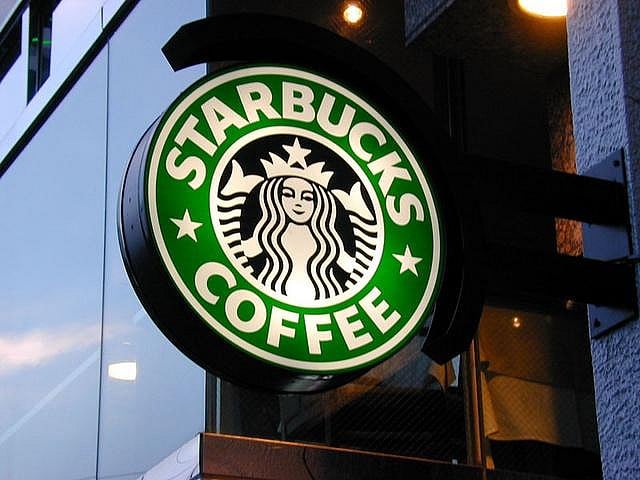 Starbucks Corp. (NASDAQ:SBUX) reported results after the bell Thursday for its fiscal third quarter that ended June 30, 2013, revealing that the world's largest coffee house's net revenues increased 3.8 percent on the quarter, and 12.1 percent on the year to $3.74 billion, beating out analyst expectations of $3.72 billion.
Earnings per share increased 7.84 percent on the quarter to $0.55 per share, reflecting a Q3 record and earning Starbucks $417.8 million for Q3. That's up from $333.1 million, and 43 cents per share from a year ago. Analysts expected the coffee company's Q3 EPS to be 53 cents per share.
In addition, global comparable store sales also grew 8 percent driven by a 7 perfect growth in traffic. That follows a 6 percent global comparable store sales from Q2, and now marks the 14th consecutive quarter of global comp growth greater than 5 percent. Starbucks customers especially demonstrated their commitment to caffeine in the U.S. market, helping the company to see a 9 percent comp growth.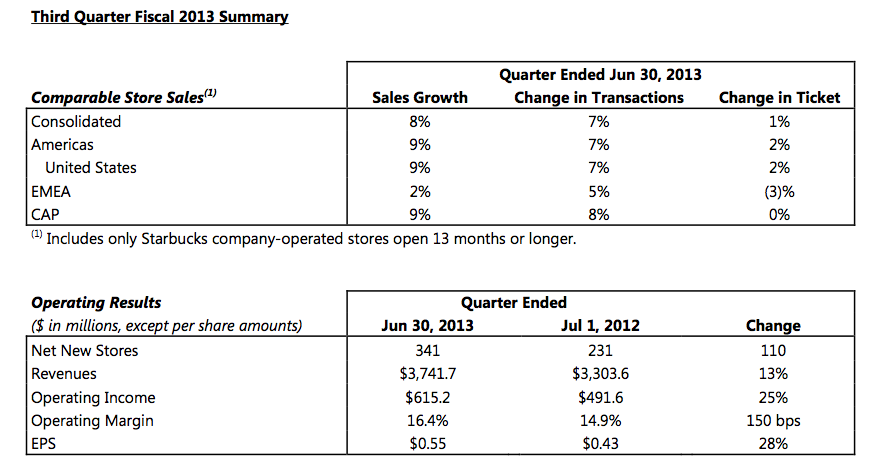 The coffee giant opened 341 net new stores in Q3, putting its global total at 19,209, and its operating margin expanded 150 base points to 16.4 percent.
Starbucks founder and CEO Howard Shultz was very pleased with the results, reporting, "Starbucks Q3 results represent the best across-the-board third-quarter performance in our 42-year history." This helped the stock soar 2.34 percent to $68.17 by 5:05 PM in New York in after-hours trading.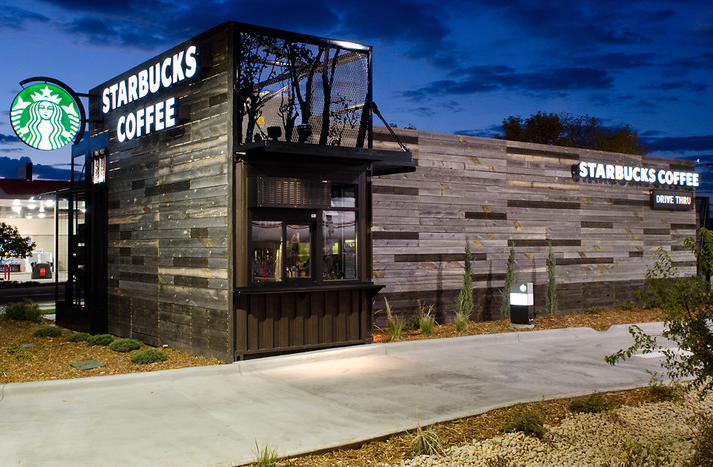 Also of note, the company sold its one billionth Starbucks and Tazo Tea-branded K-Cup, justifying the announcement that the two companies are planning on expanding their partnership.
Starbucks pleased investors with its strong fourth-quarter forecast, summed up by Chief Financial Officer Troy Alstead's belief that, "[Starbuck's] ability to grow income at a pace that exceeds revenue growth clearly demonstrates the strategic synergies we generate across our global footprint, which combined with the diversity of our portfolio, enables consistent delivery of excellent results. Looking forward to FY14 and beyond, I am confident as ever in our ability to continue to deliver strong revenue and earnings growth."
Starbucks's fourth-quarter targets include an operating margin growth of 100 basis points, and an EPS in the range of $0.59 to $0.60. In terms of the full year, the company expects EPS in the range of $2.22 to $2.23 and wants to see EPS grow between 18 percent and 22 percent in 2014′s fiscal year. That should then match up with an operating margin expansion of 150 to 200 basis points.
Starbucks's impressive third quarter results come at just the right time for a company that has been establishing new partnerships and rolling out a wide variety of products as it attempts to compete with Dunkin Brands Group's (NASDAQ:DNKN) Dunkin Donuts, not a new kid on the block by any means, but one that has given the Seattle-based coffee giant more competition with its recent announcement that it was putting down the donut, focusing more on its beverage industry, and heading West into Starbucks's stomping grounds.
Starbucks also made big news earlier this week when it announced that it would be expanding its grocery business into a domain previously dominated by Chobani Inc., General Mills Inc. (NYSE:GIS), and Fage Dairy Industry SA. That's right: Starbucks is officially going Greek. Greek yogurt, that is.
With its partner, Danone SA, the coffee company is working on a Greek yogurt line that it expects to hit company-owned U.S. stores next year. Shultz seemed particularly excited about this venture during his earnings call Thursday evening, and if the company's Greek yogurt debut can goes as well as its launch with Tazo Tea, this excitement is likely for good reason.