Starbucks? Study Finds that Dunkin' Donuts Rules the Roast in NYC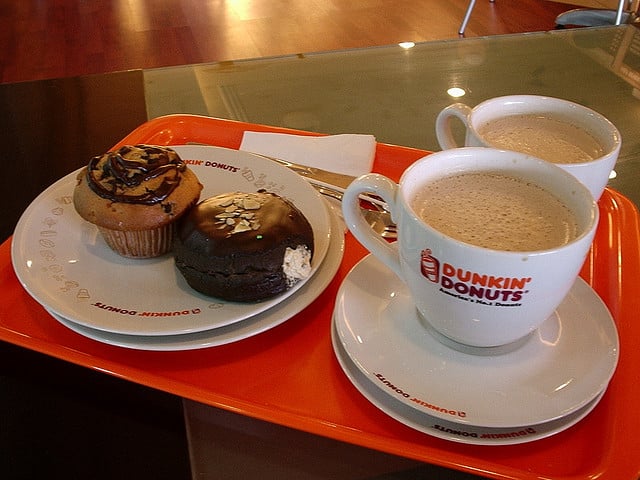 You might think that Starbucks (NASDAQ:SBUX) runs the coffee game, but in the concrete jungle, it's actually Dunkin' Donuts (NASDAQ:DNKN) that rules the roast, with 515 shops compared to Starbuck's 283 in New York City. The New York Post highlighted the study, dubbed "State of the Chains," on Tuesday, and reported that Dunkin' is NYC's largest chain store and also the first national retailer to boast more than 500 locations in the Big Apple.
"State of the Chains" comes from the Center for an Urban Future, and the report found that Dunkin' Donuts has opened 39 new shops within the past 12 months and also maintained its title as the national retailer with the largest number of shops in New York City for six years. Sandwich shop Subway is now ranked the second largest chain, with 467 locations, and Duane Reade/Walgreens places third, with 318 stores.
According to the study, most chains that opened in the past year set up shop in Brooklyn, with numbers jumping from 1,470 to 1,511, while Manhattan experienced a decline in openings due to closures in and around the South Street Seaport. Popular retailers with honorable mentions besides Starbucks, Subway, and Walgreens include MetroPCS, McDonald's (NYSE:MCD), and Baskin Robbins, which now operate 261, 240, and 202 locations, respectively.
It's interesting to learn that America's biggest city is inundated with Dunkin' Donuts, even more so than Starbucks, because the latter has been largely known as the country's most popular caffeine source — one would expect that trend to especially be true in NYC. Starbucks has been working to maintain its grip on the U.S. coffee industry by continuing to roll out popular specialty drinks, marketing more food items, and keeping its menu fresh, but the company still has a ways to go to catch up on the ground that Dunkin' now covers in the Big Apple.
Dunkin' Donuts, too, has been focusing on its beverage business this year, as it offers more specialty drinks and acknowledges that its donut business is less lucrative than its coffee one. The Quincy, Massachusetts-based chain has long been known for its presence on the eastern side of the country, but it reported in June that it was not only ready to expand its beverage business but also start moving west, heading conspicuously close to Starbucks' territory in Seattle.
Nonetheless, Starbucks still reigns over Dunkin' when it comes to the coffee industry's market share. But as Dunkin' continues expanding in lucrative cities, Starbucks will have to follow suit or else risk becoming crowded out by its smaller caffeinated rival.
Don't Miss: Easier Ways to Eat These 7 Greens: Baby Steps to a Healthier You.