State Street Earnings: Revenue Growth Streak Snapped
S&P 500 (NYSE:SPY) component State Street Corporation (NYSE:STT) posted lower net income in the first quarter compared with the year-earlier period. State Street Corp. provides a range of investment management strategies, investment management advisory services and other financial services.
Don't Miss: Wall St. Cheat Sheet's newest Feature Trades of the Month>>
State Street Earnings Cheat Sheet for the First Quarter
Results: Net income for State Street Corporation fell to $471 million (93 cents/share) vs. $495 million (99 cents/share) a year earlier. A decline of 4.8% from the year earlier quarter.
Revenue: Fell 14.2% to $2.36 billion YoY.
Actual vs. Wall St. Expectations: STT beat the mean analyst estimate of 86 cents/share. Estimates ranged from 78 cents per share to 93 cents per share.
Quoting Management: Joseph L. Hooley, State Street's chairman and chief executive officer, said, "In the first quarter the performance of our core asset servicing and asset management businesses continued to be strong. In addition, we achieved positive operating leverage in the first quarter of 2011 on an operating basis, compared to the first quarter of 2010."
Key Stats:
A year-over-year revenue decrease last quarter snaps a streak of four consecutive quarters of revenue increases. The best quarter in that span was the second quarter of the last fiscal year, which saw revenue rise 76.6%.
Competitors to Watch: Citigroup Inc. (NYSE:C), Bank of America (NYSE:BAC), Deutsche Bank (NYSE:DB), JPMorgan Chase (NYSE:JPM), HSBC (NYSE:HBC), The Bank of New York Mellon Corporation (NYSE:BK), Northern Trust Corporation (NASDAQ:NTRS), PNC (NYSE:PNC), Zions Bancorp (NASDAQ:ZION), Financials (NYSE:XLF) and Wells Fargo & Company (NYSE:WFC).
Today's Performance: Shares of STT are up close to 0.5% in pre-market trading.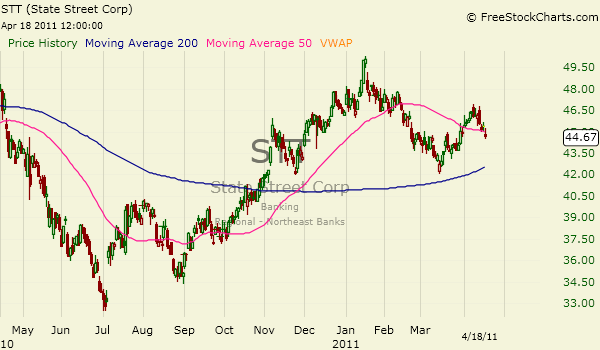 Don't Miss Wall St. Cheat Sheet's newest Feature Trades of the Month!