States Continue to Battle for Boeing Deal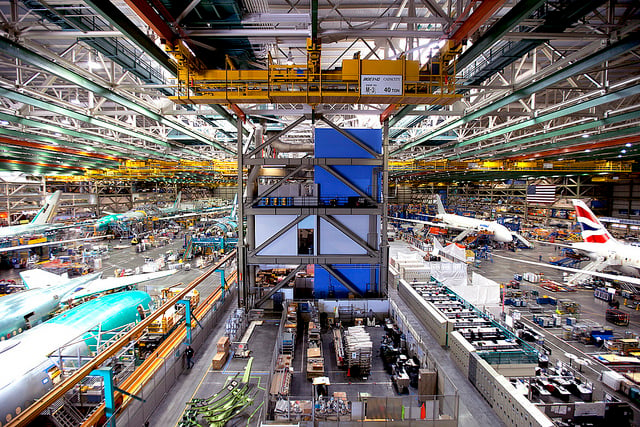 The new jetliner program at Boeing (NYSE:BA) was set to be built in Washington state until a union vote shook things up. Since then, states have been clamoring to win the contract, desirous of taking the jobs for their own. The jet program for the 777X would open up thousands of jobs for whichever state wins out, not to mention billions of dollars, according to Reuters.
Boeing has asked more than 12 states for program propositions, which will be due next week, those familiar with the discussions reported to Reuters. As a result, states are scrambling to find benefits and bonuses good enough to draw the contract to their own hands, from land recently bought for just that purpose in South Carolina to tax cuts in Missouri. Alabama, California, and Georgia are also working on offering the right sort of site.
"We want it as bad as anybody else. And we can deliver it," Paul Campbel, director of airports for the Charleston County Aviation Authority in South Carolina, told Reuters. Campbel noted that the proposed site location would be "absolutely a plus" because of its close proximity with the 787 Dreamliner manufacturer.
"We've got a team of people working on it right now. We think we can make a good case," Mark Maley, a spokesman for Wisconsin's Economic Development Corp. told Reuters. It's a sentiment apparently shared by most states in the running.
"Some locations that have received requests for proposals are being open about it and others are not," Doug Alder, a Boeing spokesperson, said to Reuters. Enthusiasm for the job-creating deal is understandable in light of joblessness in the United States, though the newest economic news release from the Bureau of Labor Statistics has been positive.
The report notes that unemployment rates have fallen from 7.3 percent to 7 percent in November across the United States. Unfortunately, this still leaves many states with higher percentages of unemployment, and there are still plenty of workers in need of jobs.
Don't Miss: Boeing's 777X Project Offers Enticing Economic Perks