Stifel Financial Corporation Earnings: Profit Rises Year Over Year
Stifel Financial Corporation (NASDAQ:SF) reported its results for the first quarter. Stifel Financial Corp. through its wholly-owned subsidiaries is mainly engaged in retail brokerage, securities trading, investment banking, investment advisory, retail, consumer and commercial banking and related financial services.
Don't Miss: Wall St. Cheat Sheet's newest Feature Trades of the Month!
Stifel Financial Earnings Cheat Sheet for the First Quarter
Results: Net income for Stifel Financial Corporation rose to $31.4 million (50 cents/share) vs. $23.7 million (45 cents/share) in the same quarter a year earlier. A rise of 32.3% from the year earlier quarter.
Revenue: Revenue was $366.6 million last quarter.
Actual vs. Wall St. Expectations: SF reported adjusted net income of of 52 cents/share. By that measure, the company fell short of mean estimate of 61 cents/share. Estimates ranged from 57 cents per share to 64 cents per share.
Quoting Management: "Following our record fourth quarter results, the first quarter of 2011 proved to be our second best quarter in terms of net revenues, net income and diluted EPS. We also achieved our pre-tax margin goal of 15% on a non-GAAP basis. These results highlight our company's continued ability to capitalize on opportunities in serving both our growing private client base and middle-market companies," commented Ronald J. Kruszewski, Chairman, President and Chief Executive Officer of Stifel Financial. "Consistent with industry trends, our investment banking results in the quarter were sequentially lower, primarily impacted by a decline in advisory and municipal underwriting activity, particularly when compared with our record fourth quarter revenues. Our pipeline remains promising, with a significant weighting in the technology sector."
Competitors to Watch: Oppenheimer Hldgs. Inc. (NYSE:OPY), Raymond James Financial, Inc. (NYSE:RJF), Siebert Financial Corp. (NASDAQ:SIEB), Ladenburg Thalmann Financial Services (AMEX:LTS), National Holdings Corp. (NHLD), Rodman & Renshaw Capital Group Inc. (NASDAQ:RODM), Morgan Stanley (NYSE:MS), TD Ameritrade Holding Corp. (NASDAQ:AMTD), Goldman Sachs Group, Inc. (NYSE:GS), and Knight Capital Group Inc. (NYSE:KCG)
Stock Performance: Shares of SF are unchanged from the previous close.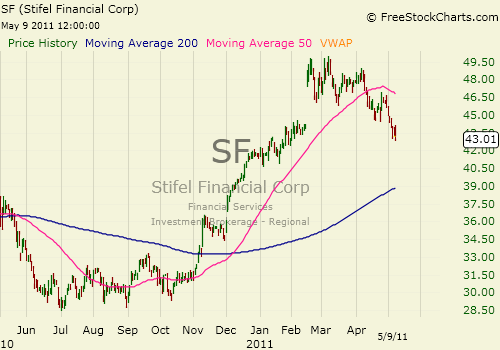 Don't Miss Wall St. Cheat Sheet's newest Feature Trades of the Month!