Stryker Earnings Cheat Sheet: Bottom Line Blues Meets Top Line Growth
Rising costs did not help S&P 500 (NYSE:SPY) component Stryker Corporation (NYSE:SYK) in the first quarter as profit dropped from a year earlier. Stryker Corp. is a medical technology firm, which produces a range of products in medical implants, surgical technologies and emergency medical equipment. It is divided into two segments, which are Orthopaedic Implants and MedSurg Equipment.
Don't Miss: Wall St. Cheat Sheet's newest Feature Trades of the Month>>
Stryker Earnings Cheat Sheet for the First Quarter
Results: Net income for Stryker Corporation fell to $307.4 million (78 cents/share) vs. $321.7 million (80 cents/share) a year earlier. A decline of 4.4% from the year earlier quarter.
Revenue: Rose 12% to $2.02 billion YoY.
Actual vs. Wall St. Expectations: SYK (NYSE:SYK) fell short of the mean analyst estimate of 89 cents/share. Estimates ranged from 87 cents per share to 92 cents per share.
Quoting Management: "Our first quarter results reinforce the strength provided by our balanced portfolio of products and services across many key segments of medical technology. Additionally, we continue to leverage our strong balance sheet and cash flow to maximize shareholder returns through targeted acquisitions, buybacks and dividends," commented Stephen P. MacMillan, Chairman, President and Chief Executive Officer. "And as evidenced by the significant increase in R&D, our commitment to innovation remains intact while simultaneously investing in our comprehensive quality and compliance programs."
Key Stats: The company has now seen net income fall in each of the last two quarters. In the fourth quarter of the last fiscal year, net income fell 3.6% from the year earlier quarter.
Over the last five quarters, revenue has increased 9.5% on average year over year. The biggest increase came in the first quarter of the last fiscal year, when revenue rose 12.4% from the year earlier quarter.
Competitors to Watch: Zimmer Holdings, Inc. (NYSE:ZMH), Exactech (NASDAQ:EXAC), Smith & Nephew (NYSE:SNN), Wright Medical Group (NASDAQ:WMGI), Tournier (TRNX), CONMED (NASDAQ:CNMD), ArthroCare (NASDAQ:ARTC), Medtronic (NYSE:MDT), NuVasive (NASDAQ:NUVA) and AlphaTec (NASDAQ:ATEC).
Today's Performance: Shares of SYK (NYSE:SYK) are down 0.3% in after hours trading.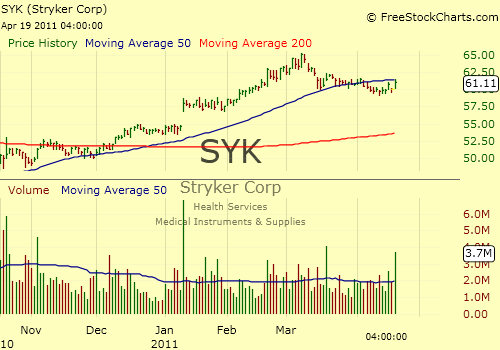 Don't Miss Wall St. Cheat Sheet's newest Feature Trades of the Month!