Student Debt Is Harming Retirement Prospects for Young People
More than half of millennials (54 percent) polled in a recent Wells Fargo (NYSE:WFC) Retirement Survey said debt is their "biggest financial concern."
Among this group — loosely defined as the generation of people currently between the ages of 18 and 34 — student debt is the primary concern. The Consumer Financial Protection Bureau found that at the end of 2012, total student debt outstanding was more than $1 trillion. This is more than total outstanding credit card debt, and is increasing at a faster and faster rate. The fraction of students with debt has increased dramatically over the past eight years. The borrowing rate among 25-year-old students in the fourth quarter of 2004 was 27 percent, and increased 16 percentage points to 43 percent by the fourth quarter of 2012.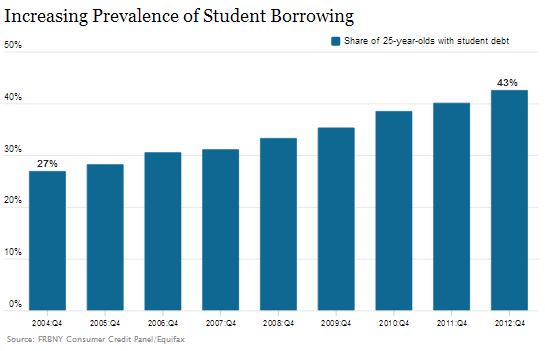 More than half (64 percent) of millennials in the survey reported that they financed school through student loans, a tremendous increase from 29 percent of boomers. Just under half (42 percent) said that their current debt load is "overwhelming," more than twice the rate of boomers. Summing up the situation appropriately, when asked what they would do if they had $10,000 in hand, 49 percent said the first thing they would do is pay off debt.
What all this points to is that millennials are too busy paying off debt to save for retirement. Only 49 percent have begun to save for retirement. Of that, 47 percent are saving between 1 and 5 percent.
"I am glad to see about half already saving for retirement," commented Karen Wimbish, director of Retail Retirement at Wells Fargo. "But we're also seeing that half of this generation has not started to save and is putting it off until the 30s. I can't stress enough how important it is for this generation to start saving now – the benefits of starting young can't be recreated later."
Earlier in May, Nobel Laureate Joseph Stiglitz joined the chorus of people warning against the student debt crisis and the systemic negative impact it will have on people's lives and the economy. Stiglitz points out that average tuition and room and board at a four-year college is just shy of $22,000 per year. This is more than double the average price of under $9,000 in 1980-1981.
"Like much else, the problem of student debt worsened during the Great Recession: tuition costs at public universities increased by 27 percent in the past five years — partly because of cutbacks — while median income shrank," he wrote.
Don't Miss: Bernanke's Testimony: Is Congress Failing the Economic Recovery?