Study: Just a Third of Uninsured Americans Hold Positive View of Obamacare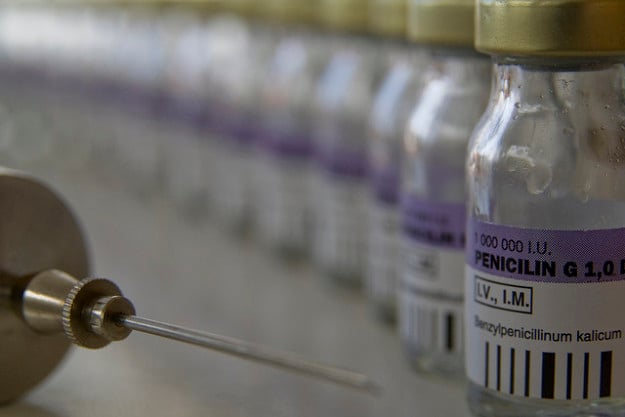 "There has been a full-court press from Day One from the opposition to characterize and demonize the plan," Thomas Mann, a senior fellow at the Brookings Institution, told USA Today, describing the response of the Republican party to the passage of the Affordable Care Act. "The campaign against the law after it was enacted, the range of steps taken, the effort to delegitimize it — it is unprecedented. We'd probably have to go back to the nullification efforts of the Southern states in the pre-Civil War period to find anything of this intensity."
The intense partisanship opposition to the health care reform has translated to the American public in a way that would surprise early supporters of the law; before it was signed into law in March 2010 by President Barack Obama, many thought that the country would support it in greater and greater numbers as the popular provisions went into effect, including the measures that have allowed young adults to remain covered by their parents insurance policies until age 26, protected children with serious medical conditions, and helped seniors pay for prescriptions.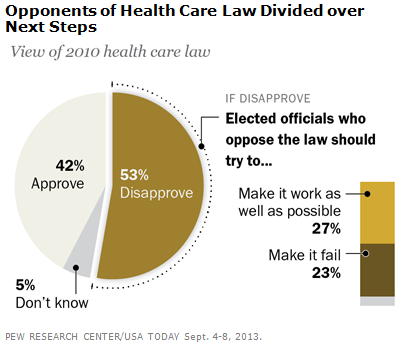 Undoubtedly, the political rhetoric in Washington has played a role educating constituents or coloring their opinions, though to what extent has not been quantified. What has been quantified is the ebbs and flows of public opinion surrounding the law, popularly known as Obamacare.
Data compiled by the Kaiser Family Foundation in its August 2013 Health Tracking Poll showed that roughly four in ten Americans, 44 percent, think either the Affordable Care Act has been repealed by Congress or overturned by the Supreme Court, or say they do not know whether it remains law or not, which was the answer of 31 percent of respondents. Just 22 percent of adults ages 18 to 64 had heard "a lot" or "some" about the insurance exchanges.
For context, the Republican-controlled House of Representatives has launched approximately 40 attempts to repeal or defund all or parts of the law, while the Supreme Court upheld the law by a 5 to 4 decision in June of 2012. With such a large percentage of Americans unsure about the legal status of the reform, it follows that slightly more than half of the American public, 51 percent, say they do not have enough information about the law to understand how it will impact them and their family. This percentage has remained largely unchanged since 2010.
Two recent surveys — released just over two weeks before the key provision of Obamacare, the insurance exchanges, open on October — produced a similar narrative; more Americans hold a negative opinion of the legislation than a positive one, a good number of Americans are unsure how the law will affect them, and support for the legislation is quite partisan.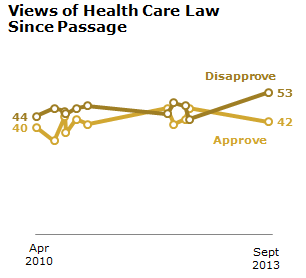 In terms of support, the survey conducted by The Wall Street Journal in conjunction with NBC News found that 54 percent of respondents thought the health care reform was a bad idea while 31 percent said it was a good idea, a figure virtually unchanged from the July survey. Similarly, 53 percent told Pew Research and USA Today that they disapproved of the law and 42 percent said they approved. That compares to the 47 percent who approved of the legislation and 43 percent who disapproved of it in July 2012, shortly after the Supreme Court upheld most provisions of the Affordable Care Act. More interestingly, Pew found more intense opposition than support for Obamacare, with 41 percent strongly disapproving it and 26 percent strongly approving it.
"Call any insurance company and ask them any question about the new health-care law, and they don't understand," a New Jersey Republican man who opposes the law said in his response to the NBC/WSJ survey. "Raises costs for everybody and limits choices," a Republican-leaning man from Texas said in his response. "It was put together so crudely and nobody knew all the unintended consequences."
I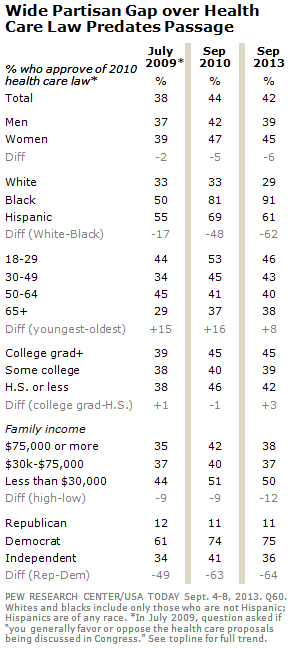 n addition, even though public support for Obamacare has fluctuated, patterns of opposition and support across demographic and partisan groups has remained fairly steady since April 2010, according to Pew.
When the results were broken down by demographic group, results showed that support for the law is higher among lower-income people than those with higher incomes — a trend that was true in September 2010 as well. Half of those with annual family incomes of less than $30,000 currently approve of the law, but support falls to just 38 percent for those individuals or households earning $75,000 or more. Just as those with lower incomes are more likely to be in favor of Obamacare, so too are younger people, with 46 percent of 18- to 29-year-olds in support. However, that percentage has fallen from September 2010's 53 percent.
Unsurprisingly, Pew's results also fell along partisan lines, with 44 percent of Democrats saying it will have a positive long-term effect, and 65 percent of Republicans and 45 percent of independents saying the law would negatively affect them and their families. In comparison, 75 percent of Republicans think the law will negatively affect the country in the coming years, while 63 percent of Democrats think its impact will be positive.
Excluding political opinions, the NBC/WSJ found that 45 percent of respondents think Obamacare will have a negative impact on the country's health-care system rather than a positive one, compared to 23 percent that believe the opposite. By extension, many respondents said the law will have a negative effect on their families. Fifty-three percent say they do not believe it will have any impact, 30 percent believe it will have a bad impact, and just 12 percent think it will have a positive effect.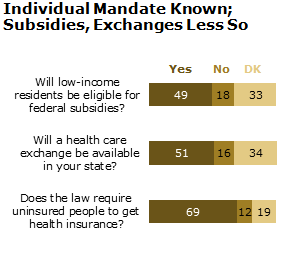 Whether Americans support or disapprove of Obamacare and whether they understand the ramifications is very important for the Affordable Care Act's overall success, much more so than many other pieces of legislation. To experts on the health care reform, this lack of understanding is seen as a major problem for the success of Obamacare's main objective: bringing affordable health care to the currently uninsured.
"If you continue to see that very low level of awareness even as you get toward October, that's a sign that we may not be getting the enrollment, and the exchanges are going to be at a bit of risk from that," Sara Collins, the co-author of a recent Commonwealth Fund report on Obamacare understanding, told CNBC. "You want a broad, healthy diverse risk pool in the marketplaces. It's really important that young, healthy people come into the market," said Collins. Their premiums cover the big bills for the relatively small number of sick people, so if the exchanges don't enroll enough young, healthy people, insurers will have to raise everyone's premiums.
When compared to Kaiser's results, both Pew and the NBC/WSJ survey showed more positive statistics about the public's understanding of the Affordable Care Act, especially Pew, which found that about 69 percent of people generally understand that the main idea of Obamacare was to require all Americans to have health insurance. Beyond the basic mandate, knowledge was a bit weaker. For example the NBC/WSJ survey found 34 percent of respondents said they do not understand the law very well and 35 percent said they understood "some," while only 30 percent said they understood the law either "very well" or "pretty well." That study also discovered that the 30 percent that said they generally understood the Affordable Care Act generally had a more positive opinion of it, with 42 percent saying it was a good idea and 45 percent saying it was a bad idea. Of the 34 percent who do not understand it very well, 17 percent said it was good idea while 44 percent said it was a bad idea.
Pew also found that only about half of the public, 51 percent, said that a health insurance exchange will be available to people in their state, and just about as many, 49 percent, said that lower-income people in their states will be eligible for federal subsidies.
Each study also had a surprising finding.
The NBC/WSJ survey found that 73 percent of respondents were already satisfied with their coverage. Since President Obama said at an April 2013 news conference that between 85 to 90 percent of Americans already have insurance, that statistic implies that a great majority of Americans with health insurance are pleased with their policies.
As for Pew, its study painted a interesting picture of the uninsured American; 19 percent of those surveyed were uninsured, and only a few more respondents in that category approved the law than disapproved of it, by a margin of 49 percent to 46 percent. Also, about a third of the uninsured, 32 percent, said the law will have a positive effect on them and their families, while as many as 33 percent said the impact will be negative. Even more concerning for the success of the exchanges is the fact that uninsured Americans also are less likely than the insured to be aware of the requirement to have health insurance. Sixty-one percent of those now without insurance know the law requires the uninsured to get insurance and just half of the uninsured know low-income residents will be eligible for federal subsidies.
Here's how the major U.S. indexes traded on Tuesday:

Don't Miss: GOP: Obamacare 'Honor System' May Lead to $250 Billion.
Follow Meghan on Twitter @MFoley_WSCS