Study: McDonald's, Burger King are Fooling the Kids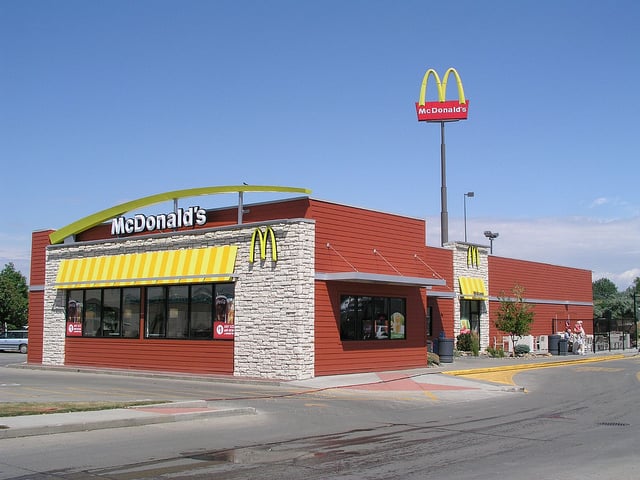 Popular fast food restaurants such as McDonald's (NYSE:MCD) and Burger King (NYSE:BKW) have long come under fire from regulators and safety groups who condemn the way the chains purposely advertise to children, making Ronald McDonald or premium toys the subject of their ads, rather than marketing the food and its nutritional implications. The criticism has led some chains to object, and others to make do-better promises, but now a new study by Plos One, a scientific journal, elucidates that these restaurants' efforts aren't coming up short.
Ad Week explains that Plos One assessed a year's worth of fast food ads on television between July 1, 2009 and June 30, 2010, analyzing them frame by frame and eventually concluding that almost 99 percent of the fast food ads that explicitly target kids come from McDonald's (70 percent), or Burger King (29 percent).
The companies do this by deliberately making food packages or toy premiums the star of their ads' shows, rather than food, which is how McDonald's and Burger King advertises to adults. Plos One's study reports that food packaging images were found in 88 percent of kids' ads, while only 23 percent of adult ads showed the same trend. In addition, toy premiums were promoted in 69 percent of kids' ads compared to 1 percent of that of adults.
Thus, the researchers recognize fast food chains' strategies, and illuminate why many regulators point fingers at these popular kid-friendly restaurants for purposely manipulating their marketing to advertise to children who don't understand the product and premium message that are actually being presented to them.
The study's evidence also comes at a poignant time as it follows just in the wake of several other newsworthy charges that have rocked McDonald's and Burger King since the beginning of the summer. Back in May, we learned about nonprofit corporate watchdop, Corporate Accountability International, who charged McDonald's with purposely employing company mascot, Ronald McDonald, to help draw in young consumers who don't understand the health implications that many McDonald's food fare presents.
Corporate Accountability International accused McDonald's of contributing to the obesity epidemic with its advertising that targets children, especially minorities, and pointed fingers at Ronald McDonald for contributing to a significant portion of the problem.
Back in May, as is the same case now, McDonald's adamantly refuted these claims, arguing that it is up to the parents to feed the children the way they want, and Ronald McDonald is simply a symbol of "fun."
Even now, the fast food companies are taking the same position. According to Ad Week, both McDonald's and Burger King maintain that they meet the Children's Food and Beverage Advertising Initiative's standards on purposely marketing healthy options and claim that the study's results were based on three-year-old data and thus don't reflect the companies' current advertising.
CFBAI vp and director, Elaine Kolish, even supports the fast food restaurants' claims insisting that both McDonald's and Burger King have boosted their advertising efforts to direct audience's attention to nutritious food items, explaining, "Our independent monitoring shows that, as promised, both have limited their child-directed advertising to meals meeting meaningful nutrition criteria. Both have also made improvements in the kids meals they advertise to children compared to 2006."
In addition, director of Children's Advertising Review Unit, Wayne Keeley, also took issue with the study's results, maintaining that both restaurants have worked to meet CARU recommendations and have actually been "model participants in the self-regulatory process."
Thus, it is still up in the air whether Plos One's research suggests a consistent advertising trend, or one that has now diminished thanks to regulators and restaurants' efforts. Food companies now have to pay especially close attention to their marketing because not only are they combatting diminishing fast-food sales, but they're also focusing on their mobile ads and those that can only rearch certain generations of consumers.
Now that more customers are turning their attention away from the TV and onto PCs, tablets, and smartphone devices, fast food chains like Burger King and McDonald's have to curtail their adveritsing efforts in order to follow suit. Thus, this recent study may paint a picture of how advertising looked three years ago, but the world of advertising has evolved significantly since then.
Don't Miss: Analyst: Put Your Fries in Burger King's Basket, Not McDonald's