Submarine Technology Boosts U.S. Oil Flow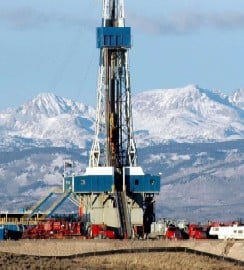 An adaption of an acoustic spy technology used by U.S. submarines called "fracking" is guiding oilfield engineers to finishing wells and determining oil flow levels.
The sounds recorded by a fine glass thread two miles underground has become music to the ears of drilling equipment providers such as Halliburton Co. (NYSE:HAL). Bloomberg reports that the technology provides the ability to hear inside a well and enables producers to fine-tune hydraulic fracturing, or fracking, the process that blasts underground rock with water, sand, and chemicals to free trapped oil and natural gas.
Glenn McColpin, director of reservoir monitoring at Halliburton's Houston-based Pinnacle unit said, "Halliburton, the world's largest provider of fracking services, is working on cataloging the combination of sounds that signal the perfect frack: an explosion, cracking rock, and eventually the gurgle of hydrocarbons seeping into the well bore."
According to Bloomberg, once perfected, a computer will convert the sounds to a graph that will show how deeply and thoroughly cracks penetrate the rock surrounding the well, indicating the success of each frack stage. The longer and more numerous the cracks, the more oil and gas will flow.
"Our whole goal is to make the perfect frack every time," McColpin said. "You're spending millions of dollars pumping millions of gallons of fluid, and if you're only getting a third of the rock, you're getting a third of the production."
"Our whole goal is to make the earth transparent," McColpin added. "Now we've got a window into the well to see exactly what's happening."
Bloomberg reports that fracking has assisted U.S. oil production in reaching a 21-year high.
"We're creating a new science," said Magnus McEwen-King, managing director for OptaSense, a unit of the UK-based energy innovator Qinetiq Group Plc. "From an acoustic perspective, this is very much the start of what I think is going to be a revolutionary technology."
While fracking is a relatively new tool for the oil production industry, U.S. submarines were using acoustic fiber-optic technology back in the late 1990s.
Don't Miss: Here's Why Obama's Climate Plan Has Keystone Opponents Worried.