Suit Against Chevron Turned Aside by Brazilian Judge and 2 Other Dow Movers to Watch
Chevron Corp. (NYSE:CVX): Current price $121.62
Brazilian federal Judge Raffaele Felice Pirro has turned aside a civil lawsuit against Chevron Corp. and driller Transocean Ltd. in regards to a 2011 oil spill off the coast of Rio de Janeiro. Federal prosecutors had been looking for around $20 billion in damages for some 110,000 gallons of crude that seeped into the ocean near the Chevron well in November 2011. The prosecutor's office had no immediate comment on the ruling announced late on Monday. Pirro dismissed the case after Chevron agreed to pay the equivalent of approximately $150 million in "compensatory activities." The judge also said Transocean bore no responsibility for the spill.

Cisco Systems Inc. (NASDAQ:CSCO): Current price $23.43
According to a Monday filing with the Securities and Exchange Commission, Cisco CEO John Chambers received $21.1 million in compensation for the company's most recent fiscal year, which was almost double the amount from the prior period. Chambers saw his base salary elevated to $1.1 million for the year ended July from $375,000. Cisco said his previous salary was "historically low," and that the increase brings his compensation on par with his peers. Chambers received a $4.7 million cash bonus, up from $3.95 million, as well as restricted stock valued at $15.2 million, compared with $7.35 million in fiscal 2012, according to the filing. The CEO's package was $11.7 million in the previous period.

American Express Co. (NYSE:AXP): Current price $75.87
The ex-dividend date for Dow component American Express is on Wednesday. Owners of shares as of market close Tuesday will be eligible for a dividend of 23 cents per share. Based on the price of $75.78 as of 10:30 a.m. EDT, the dividend yield comes to 1.2 percent, versus the average Dow component yield of 2.6 percent. The average volume for American Express has stood at 4.3 million shares per day during the past 30 days. The company has a market cap of $82.07 billion.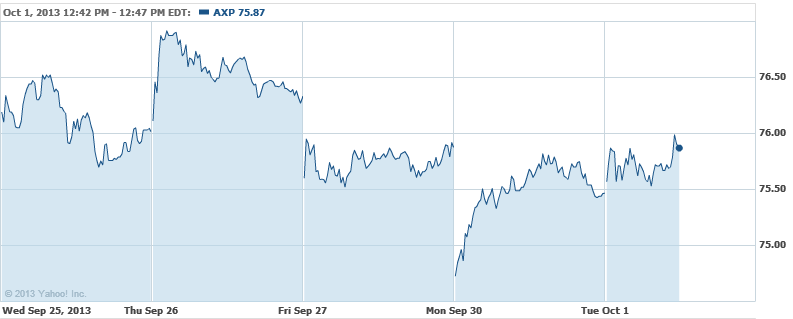 Don't Miss: No Gold iPhone? The Chinese Will Do With Gold Stickers.