Suntech Collapses As NYSE Poised to Pull Plug and 2 More Heavily Traded Stocks to Follow
Suntech Power Holdings Co. Ltd. (NYSE:STP): Current price $0.86
On Thursday, the New York Stock Exchange said that Suntech's shares will be delisted prior to the opening bell on Monday. The reason given for pulling the plug is "uncertainty" as to whether the company can finish its 2012 annual report on time "in light of the ongoing restructuring involving the company." The coming action bodes a brutal change of fortune for Suntech, which raised $400 million in an initial public offering in 2005. That IPO was the biggest in the United States for a firm based in China in that year, and it was so impressive that Suntech's founder, Zhengrong Shi, was later invited to participate in a NYSE advisory committee.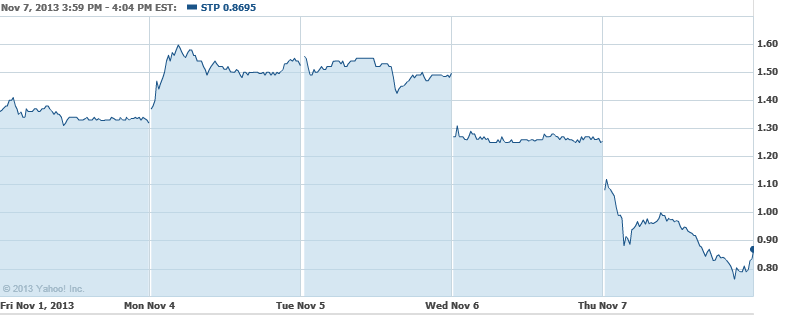 AT&T Inc. (NYSE:T): Current price $35.13
AT&T says that it will shell out $3.5 million to resolve federal charges that it had overbilled a United States government fund aimed at helping customers who have hearing and speech impairments, which was said to enable people in Nigeria and other nations to pursue credit card fraud. However, AT&T was not implicated in the frauds. Thursday's deal settles claims regarding the Telecommunications Relay Services Fund, which is meant to compensate carriers for the extra costs of placing calls on behalf of persons who have difficulty hearing and speaking.

Chesapeake Energy Corp. (NYSE:CHK): Current price $25.39
Chesapeake is already being probed for possible antitrust violations in Michigan, and in a regulatory filing on Wednesday, revealed that the state's attorney general is also looking at a possible violation of Michigan's criminal solicitation law. The energy corporation said that the Department of Attorney General issued a subpoena connected with the matter on September 16, said the company's quarterly filing with the Securities and Exchange Commission.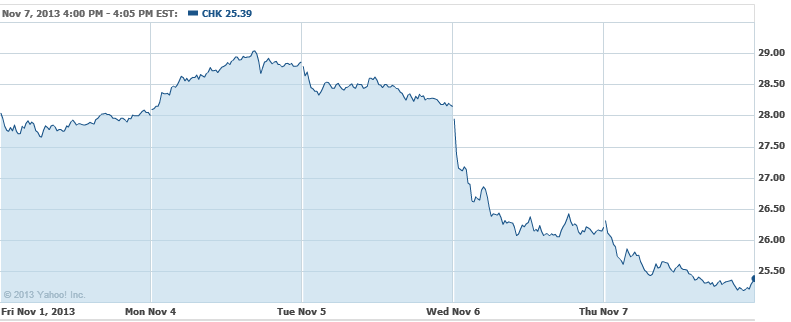 Don't Miss: This Privacy Concern Could Ruin AT&T's European Plans.