Suntech Power Earnings Cheat Sheet: Revenue Strengthens Again by Double-Digits
Suntech Power Holdings Co., Ltd. (NYSE:STP) reported higher profit for the first quarter as revenue showed growth. Suntech Power Holdings Co., Ltd. is a solar energy company, which designs, develops, manufactures and markets a number of PV cells and modules, including a range of value-added building-integrated photovoltaics products.
Don't Miss: Wall St. Cheat Sheet's newest Feature Trades of the Month!
Suntech Power Holdings Co Earnings Cheat Sheet for the First Quarter
Results: Net income for Suntech Power Holdings Co., Ltd. rose to $31.9 million (17 cents/share) vs. $20.7 million (11 cents/share) in the same quarter a year earlier. A rise of 54.2% from the year earlier quarter.
Revenue: Rose 49.1% to $877 million YoY.
Actual vs. Wall St. Expectations: For STP, the mean analyst estimate was 36 cents/share. Estimates ranged from 26 cents per share to 50 cents per share.
Quoting Management: "The first quarter of 2011 was a solid quarter that demonstrated the resilience of Suntech's business model under challenging market conditions," said Dr. Zhengrong Shi, Chairman and CEO. "Despite a slight sequential decline in our shipments related to policy uncertainty in Italy, a long winter in Germany and first quarter seasonality, we improved our gross margin from the fourth quarter and continued to diversify our sales across global markets. These outcomes reflect our ongoing efforts to enhance our competitiveness, mitigate policy risk, and position Suntech to increase our share in high-growth emerging markets. In particular, we were pleased to see greater demand in the Chinese solar market during the first quarter."
Key Stats: The company has enjoyed double-digit year-over-year revenue growth for the past five quarters. Over that span, the company has averaged growth of 71.8%, with the biggest boost coming in the second quarter of the last fiscal year when revenue rose 94.8% from the year earlier quarter.
Gross margin shrunk 0.5 percentage point to 19%. The contraction appeared to be driven by rising costs as the figure rose 50% from the year earlier quarter while revenue rose 49.1%.
Competitors to Watch: SunPower Corporation (NASDAQ:SPWRA), FirstSolar (NASDAQ:FSLR), Trina Solar Limited (NYSE:TSL), General Electric Company (NYSE:GE), Yingli Green Energy Hold. Co. Ltd. (NYSE:YGE), MEMC Electronic Materials, Inc. (NYSE:WFR), Evergreen Solar, Inc. (NASDAQ:ESLR), Energy Conversion Devices, Inc. (NASDAQ:ENER), DayStar Technologies Inc. (NASDAQ:DSTI), and Ascent Solar Tech., Inc. (NASDAQ:ASTI)
Stock Performance: Shares of STP are down 1% pre-market from the previous close of $7.66.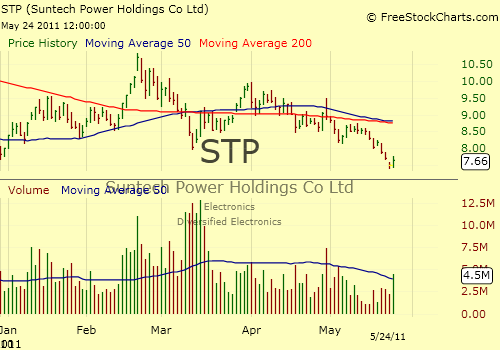 Don't Miss Wall St. Cheat Sheet's newest Feature Trades of the Month!
(Sources: YahooFinance, Xignite Financials)