SunTrust Banks Earnings: Breaking Wall Street's Heart
S&P 500 (NYSE:SPY) component Suntrust Banks Inc. (NYSE:STI) swung to a profit in the first quarter, but still came up short of analyst expectations. SunTrust Banks, Inc. is a financial services holding company whose businesses provide a range of financial services to consumer and corporate clients.
Don't Miss: Wall St. Cheat Sheet's newest Feature Trades of the Month!
Suntrust Banks Earnings Cheat Sheet for the First Quarter
Results: Swung to a profit of $180 million (8 cents/diluted share) in the quarter. The Suntrust Banks Inc. had a net loss of $160.8 million or a loss 46 cents per share in the year earlier quarter.
Revenue: Rose from $1.9 billion 13.6% to $2.16 billion YoY.
Actual vs. Wall St. Expectations: STI fell short of the mean analyst estimate of 14 cents/share. Estimates ranged from 10 cents per share to 18 cents per share.
Quoting Management: "Our emphasis on profitable growth and continued credit quality improvement resulted in solid performance that was in line with our expectations for the quarter," said James M. Wells III, chairman and chief executive officer of SunTrust Banks, Inc. Mr. Wells noted that the Company's patient and deliberate approach to TARP redemption had been completed with the best interests of shareholders in mind, and that SunTrust is now "singularly focused on client-centric strategies to take advantage of the growth opportunities in our markets and further improve profitability."
Key Stats:
A year-over-year revenue decrease last quarter snaps a streak of two consecutive quarters of revenue increases. Revenue rose 10.8% in the fourth quarter of the last fiscal year and 8.9% in the third quarter of the last fiscal year.
Competitors to Watch: Bank of America (NYSE:BAC), JPMorgan Chase (NYSE:JPM), U.S. Bancorp (NYSE:USB), Wells Fargo & Company (NYSE:WFC), Hudson City Bancorp, Inc (NASDAQ:HCBK), PNC Financial Services Group (NYSE:PNC), KeyCorp (NYSE:KEY), and BB & T Corp. (NYSE:BBT).
Today's Performance: Shares of STI are trading at $27.13 as of April 21, 2011 at 12:20 PM ET, down 1.8% from the previous closing price of $27.63.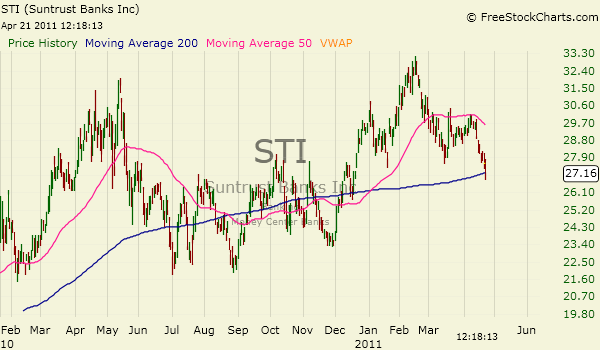 Don't Miss Wall St. Cheat Sheet's newest Feature Trades of the Month!