Surging Home Prices Reach Best Level Since July 2005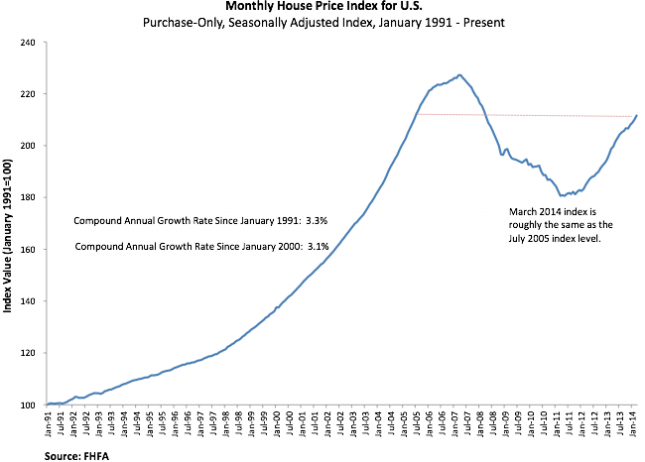 Homebuyers are not finding much relief in the housing market this year as home prices continue to climb higher. According to the latest Federal Housing Finance Agency report, home prices increased 1.3 percent in first quarter, representing the 11th consecutive quarterly gain.
The House Price Index has not logged a quarterly decline since 2011, and it reached its best level since July 2005. The index gained 1.2 percent in the previous quarter and 1.8 percent in the third quarter of 2013. In fact, the purchase-only HPI rose in 42 states and Washington, D.C., in the first quarter. On a monthly basis, home prices rose 0.7 percent in March from February when seasonally adjusted. The FHFA index is based on single-family homes with mortgages that have been sold to or guaranteed by Fannie Mae or Freddie Mac.
"Although the first quarter saw relatively weak real estate transaction activity — in part due to seasonal factors — home prices continued to push higher in the first quarter," said FHFA principal economist Andrew Leventis in a press statement. "Modest inventories of homes available for sale likely played a significant role in driving the price increase, which was similar to appreciation in the preceding quarter."
Some regions of the country clearly experienced stronger gains than others. The advance in March was led by a 12.4 percent surge in the Pacific region (Hawaii, Alaska, Washington, Oregon, and California) year over year. Prices in the Mountain region jumped 9.8 percent, and the South Atlantic region gained 6.5 percent from a year earlier. The Middle Atlantic was the weakest region, with a yearly gain of only 2 percent.
In a separate report, the S&P/Case-Shiller Home Price index of property values in 20 cities increased 0.9 percent in March on a seasonally adjusted basis, compared to a gain of 0.8 percent in February. On an annual basis, the index jumped 12.4 percent, down slightly from February's 12.9 percent gain.
"The year-over-year changes suggest that prices are rising more slowly," said David M. Blitzer, chairman of the Index Committee at the S&P Dow Jones Indices, in a press release. "Annual price increases for the two Composites have slowed in the last four months and 13 cities saw annual price changes moderate in March. The National Index also showed decelerating gains in the last quarter. Among those markets seeing substantial slowdowns in price gains were some of the leading boom-bust markets including Las Vegas, Los Angeles, Phoenix, San Francisco and Tampa."
More From Wall St. Cheat Sheet:
Follow Eric on Twitter @Mr_Eric_WSCS