Surging Home Prices Reach Highest Level Since 2005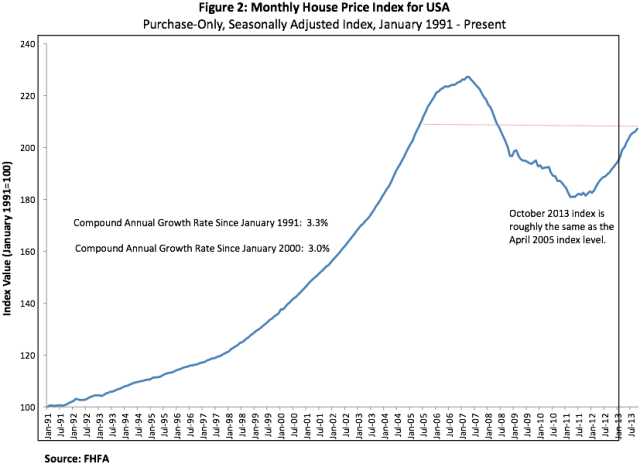 After a strong year of gains, home prices in the United States continued to rise in October. According to the latest Federal Housing Finance Agency report, home prices increased 0.5 percent on a seasonally adjusted basis in October compared to the previous month.
The House Price Index has now logged 21 consecutive monthly price increases. However, the previously reported 0.3 percent increase in September was revised downward to a 0.2 percent increase — the slowest pace of the year. Compared to last year, the index jumped 8.2 percent in October and is roughly back to the same level as in April 2005.
The FHFA index is based on single-family homes with mortgages that have been sold to or guaranteed by Fannie Mae or Freddie Mac. The index does not provide specific prices for homes, but the index has not posted a decline in national home prices on a monthly basis since January 2011.
In the third quarter, home prices increased 2 percent from the previous quarter. The FHFA's expanded-data index — which includes transaction information from county recorder offices and the Federal Housing Administration — posted a gain of 2.2 percent for the third quarter. Home prices have now posted an increase for nine consecutive quarters and have gained nearly 9 percent over the past four quarters.
As the chart below shows, the advance in October was led by a 17.5 percent surge in the Pacific region (Hawaii, Alaska, Washington, Oregon, and California) year over year. Prices in the Mountain region jumped 12.7 percent, and the South Atlantic region gained 8.6 percent from a year earlier. The East South Central was the weakest region, with a yearly gain of only 4.7 percent.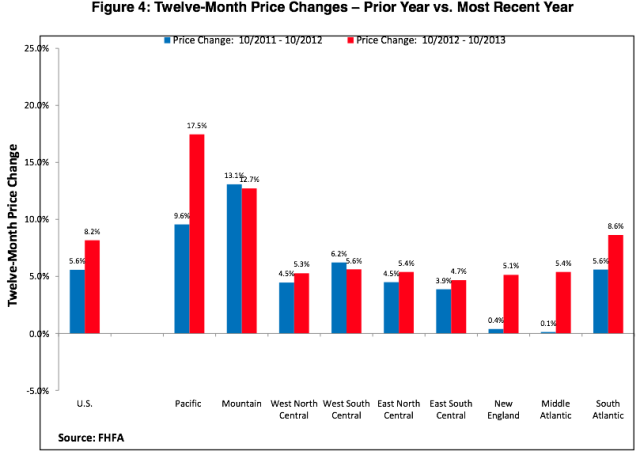 More from Wall St. Cheat Sheet:
Follow Eric on Twitter @Mr_Eric_WSCS