Surveys: Janet Yellen Clear Favorite Over Summers for Fed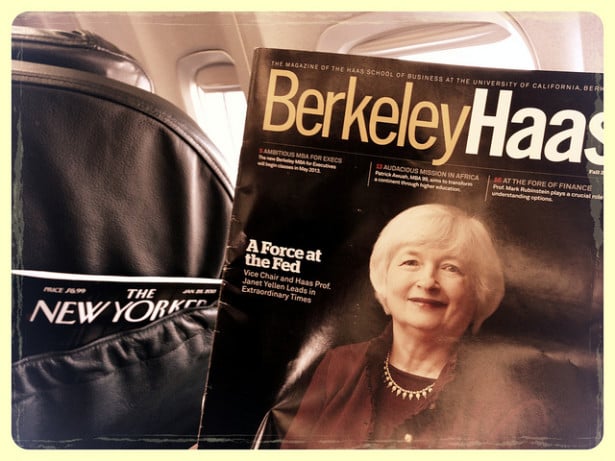 Federal Reserve Vice Chair Janet Yellen has a commanding lead among economists polled by both Reuters and Bloomberg, a marked discrepancy between those polled by the media and odds given to possible candidates on the website Paddy Power. Paddy Power takes is an online bookmaker currently taking odds on the Fed chairmanship, and Lawrence summers is currently the front runner, given a 48 percent chance of taking the position after Bernanke's term expires.
The Fed race is turning a bit contentious among President Obama's own party, with many Democrats preferring that the president cast a more favorable glance on Yellen, despite how close the commander-in-chief is to the former Harvard president. Summers is seen by many among Democrats as being too sympathetic towards financial deregulation, a proponent of amending Glass-Stegall during the Clinton era which allowed commercial and investment banks to merge.
However, there are those who would defend Summers' candidacy, including David Brooks, who told NPR that the potential Fed chairman has 'metacognition' skills, or the "ability to know what he doesn't know."
The president himself has been building up a case for Summers lately, in the wake of criticism and general preference among many for Yellen as the next leader of the U.S.'s central bank. According to some Democratic members of Congress, the president went out of his way to articulate a defense for him in meetings about possible candidates for the position.
Yet, among Bloomberg and Reuters' economists polled, the majority not only think that Yellen will get the position next, but many prefer her as well. Among a poll of 63 economists by Bloomberg, 53 percent think that she would be the best candidate for the job, while only 10 percent felt similarly about Summers.
Of 39 economists surveyed by Reuters, only 8 predicted that the job would pass to Summers, while 26 were convinced Yellen is the next pick.
Both are seen in different lights by onlookers and by markets in terms of how they might operate the Federal Reserve. Summers has been skeptical of quantitative easing while still having a general record of amicable feelings towards accommodative central banking policy, though the prospect of an aggressive wind down in easing under Summers is a tangible concern for markets.
Yellen, however, is seen as much more of an extension of Ben Bernanke, having experienced the hardships he led the bank through in the wake of the financial crash. With these differing attitudes in mind, Evariste Lefeuvre, chief economist for the Americas at Natixis North America, told Reuters his rationale, saying that, "I think Yellen is a done deal. We don't need at this stage in the recovery a shock; we need a smooth transition."
Don't Miss: This Obamacare Delay Was Hidden in the Frequently Asked Questions.