Symantec Offers Altiris For Sale and 3 Stocks Enjoying 52-Week Highs
Santarus (NASDAQ:SNTS): Closing price $12.52
The firm has received FDA approval of Uceris extended release tablets for the induction of remission in patients suffering from active, mild to moderate ulcerative colitis. It is anticipated that the commercial launch of Uceris can be started in March. At the same time, management guided its fiscal year 2013 revenue above expectations, currently expecting that revenue at between $320 million and 325 million, against consensus of $301.25 million. Santarus also expects to meet or exceed its fiscal year 2012 revenue estimate of around $210 million, versus consensus of $209.33 million. Shares closed up 10.99 percent on the day at $12.52, having been traded in a 52-week range of $4.17 to $11.99.

Start 2013 better than ever by saving time and making money with your Limited Time Offer for our highly-acclaimed Stock Picker Newsletter. Click here for our fresh Feature Stock Pick now!
Symantec Corporation (NASDAQ:SYMC): Closing price $20.85
Symantec has placed its Altiris business division up for sale, according to the Wall Street Journal. The unit is luring interest from private-equity firms, say inside sources. Shares closed up 4.72 percent on the day at $20.85, and have been traded in a 52-week range of $13.06 to $20.04.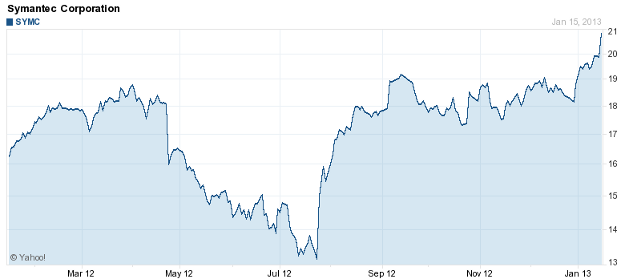 Honeywell International (NYSE:HON): Closing price $66.88
The firm has agreed to a resolution with the Massachusetts Attorney General concerning a $32.8 million energy efficiency and conservation program introduced more than five years ago with the City of Quincy. Through the terms, Honeywell will pay $4 million to the Commonwealth and will advise the state of any future water meter replacement projects that fall under the statute. Likewise, Quincy has agreed that Honeywell will have no ongoing performance and maintenance requirements, and the City will be responsible for all related equipment and expenses going forward. Shares closed up 0.18 percent on the day at$66.88, having been traded in a 52-week range of $52.21 to $66.87.
AECOM Technology Corporation (NYSE:ACM): Closing price $25.22
AECOM Technology reported that a joint venture in which it participates has won a 5-year contract worth as much as $28 million by the Australia-based utility firm TransGrid, to design and build 90 substations in New South Wales. The joint venture between AECOM and Powercor Network Services, will contribute to several project elements, including environmental-management and construction-phase support, along with building design, electrical, ground, structural, and engineering services. The project is part of a substation program having a total design and construction value worth up to $1.7 billion. Shares closed up 2.06 percent on the day at $25.22, and have traded in a 52-week range of $14.50 to $24.97.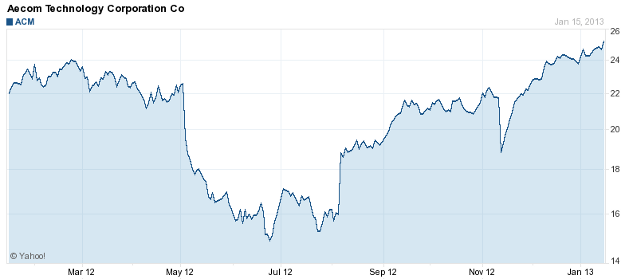 Don't Miss: Will Dell Go Private or Not?