Symantec Plans Workforce Reduction and 4 Morning Hot Stocks Trading Today
General Motors (NYSE:GM): Current Price $28.92
General Motors (NYSE:GM) and partner PSA Peugeot Citroen will utilize the latter's technological platforms to build three joint vehicle programs that will share development costs and cut European losses. The programs include future small cars such as GM's Opel Corsa and the Citroen C3, people movers such as the Opel Zafira and Peugeot's 3008, and the minivans group of Opel Meriva, Peugeot 2008 and Citroen C3 Picasso. The first jointly developed vehicles will roll off assembly lines in 2016.

Nokia (NYSE:NOK): Current Price $4.25
Nokia (NYSE:NOK) declares fourth quarter EPS of €0.06 and revenue of €8.04 billion. The group achieved underlying profitability with a substantial contribution from Nokia Siemens Networks. Operating margin at Devices and Services improved to 1.3% quarter on quarter while that at Nokia Siemens Networks improved to 14.4%, the highest in the latter's history. Group cash position improved by €800 million, with €650 million contributed by Nokia Siemens Networks. Net sales in the Devices and Services business were down 36% y-on-y to €3.85 billion. Mobile device volume was down 24% to 86.3 million units. These included smartphone volumes of 9.3 million units of Asha, 4.4 million of Lumia and 2.2 million Symbian-based units. Geographically, the Devices and Services business lost net sales in every territory except North America where sales year-on-year by 270%, albeit on a very low base. The company skipped a dividend for the first time in 143 years.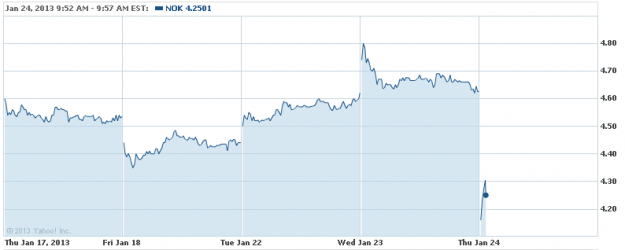 Are these stocks a buy or sell? Let us help you decide. Check out our Stock Picker Newsletter now.
Xerox (NYSE:XRX): Current Price $7.93
Xerox (NYSE:XRX) reports fourth quarter EPS of $0.3 and revenue of $5.9 billion, beating by $0.01 and $0.02 billion, respectively. The company's services business increased revenue by 7% while revenue from the document technology business fell 8%."Strong growth in services and the consistent profitability of our document technology business generated significant operating cash flow and contributed to fourth-quarter earnings that met our expectations," said Ursula Burns, Xerox chairman and chief executive officer. "Our fourth-quarter results reflect steady progress. We increased our services segment margin by 0.9 points while growing business process outsourcing revenue by 8 percent, IT outsourcing by 15 percent and document outsourcing by 2 percent. In document technology, our fourth-quarter segment margin of 12.3 percent improved, reflecting effective execution in reducing our cost base and maximizing profitability." For the first quarter in 2013, the company expects adjusted EPS of $0.23 to $0.25 per share and for the year as a whole, adjusted EPS of $1.09-$1.15.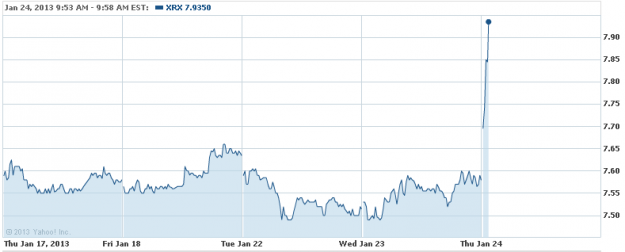 Symantec Corp (NASDAQ:SYMC): Current Price $21.51
Antivirus software maker Symantec Corp (NASDAQ:SYMC), under an overhaul by CEO Steve Bennett, may cut at least 1,000 jobs. Yesterday, the company announced it will lower manning across its executive and middle management levels, "resulting in a reduction of the workforce," but had not disclosed any numbers. Under Bennett, Symantec plans to restructure sales operations, return cash to shareholders and tie up with other companies to offer more innovative packages of products.

JCPenney (NYSE:JCP): Current Price $18.35
The New York Post reveals that JCPenney (NYSE:JCP) CEO Ron Johnson is seeking to create an impression that the retailer's prices are very low by asking suppliers to make up higher suggested retail prices, and then displaying the clothing or accessories for sale at a lower and discounted price. Apparently, JCPenney has also asked for letters from the manufacturers that confirm the suggested retail prices in writing.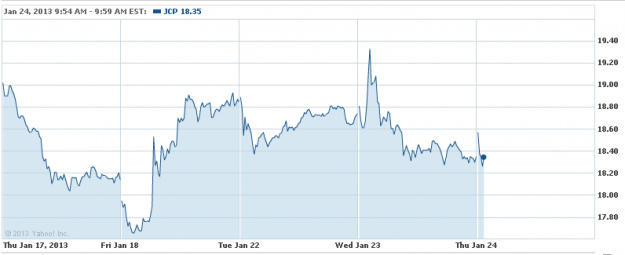 Don't Miss: Can Microsoft's Windows Phone Stop Playing Follow the Leader?