Syria's Other Trouble: Value of Its Pound at All-Time Low
As I have documented previously, the economic devastation and international sanctions that have accompanied Syria's civil war have wreaked havoc on the country's currency, the Syrian pound. In a desperate, wrong-headed attempt to save its troubled currency, the Assad regime has imposed harsh penalties for currency trading on the black-market. This strategy proved wildly unsuccessful when it was utilized by the Iran in October of 2012.
Indeed, as was the case in Iran, attempts to suppress currency exchange have sparked a panic — a run on the Syrian pound. As of 10 July 2013, the value of the Syrian pound on the black market has hit an all time low, with the current black-market exchange rate now sitting at 295.00 SYP/USD.
As the accompanying chart shows, this has sent the implied monthly inflation rate in Syria skyrocketing.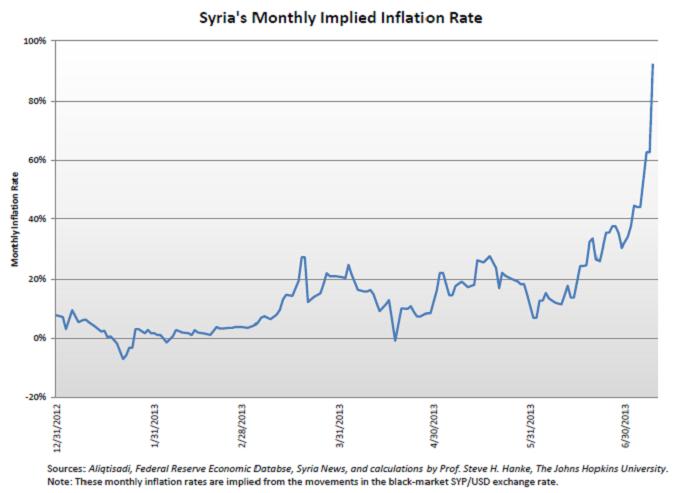 Yes, Syria's implied monthly inflation rate is now 91.9 percent. This means that Syria has exceeded the threshold for hyperinflation (an inflation rate of 50 percent per month). Only time will tell if this run on the Syrian pound will continue. But, for the time being, we can be sure that the Syrian pound will remain a troubled currency.
I have established a page to track current black-market exchange-rate and implied inflation data for the Syrian pound, as well as for troubled currencies in Iran, Argentina, North Korea, and Venezuela. For more, see: The Troubled Currencies Project.
Steve H. Hanke is a Professor of Applied Economics at The Johns Hopkins University in Baltimore and a Senior Fellow at the Cato Institute in Washington, D.C. You can follow Prof. Hanke on Twitter @Steve_Hanke or his website at Cato.
Don't Miss: What Do Americans Think About the Housing Recovery?