T. Rowe Price Earnings: The Funds are Not Flowing
S&P 500 (NYSE:SPY) component T. Rowe Price Group, Inc. (NASDAQ:TROW) reported its results for the first quarter. T. Rowe Price Group, a financial services holding company, provides investment advisory services to individual and institutional investors in the sponsored mutual funds and other investment portfolios.
Don't Miss: Wall St. Cheat Sheet's newest Feature Trades of the Month!
T. Rowe Price Group Earnings Cheat Sheet for the First Quarter
Results: Net income for T. Rowe Price Group, Inc. rose to $194.6 million (72 cents/share) vs. $153 million (56 cents/share) YoY. A rise of 27.2% from the year earlier quarter.
Revenue: Rose 4.9% to $588.8 million YoY.
Actual vs. Wall St. Expectations: TROW fell short of the mean analyst estimate of 75 cents/share. Estimates ranged from 71 cents per share to 78 cents per share.
Quoting Management: James A.C. Kennedy, the company's chief executive officer and president, commented: "The firm's long-term investment advisory results relative to our peers remain very strong, with 89% of the T. Rowe Price funds across their share classes outperforming their comparable Lipper averages on a total return basis for the three- and five-year periods ended March 31, 2011, 81% outperforming for the 10-year period, and 65% outperforming for the one-year period. In addition, T. Rowe Price stock, bond and blended asset funds that ended the quarter with an overall rating of four or five stars from Morningstar account for nearly 78% of our rated funds' assets under management."
Key Stats:
The company has now seen net income rise in three-straight quarters. In the fourth quarter of the last fiscal year, net income rose 25.6% and in the third quarter of the last fiscal year, the figure rose 27.2%.
Competitors to Watch: Charles Schwab Corp. (NYSE:SCHW), Franklin Resources (NYSE:BEN), Federated Investors (NYSE:FII), Waddell & Reed Financial (NYSE:WDR), Janus Capital Group (NYSE:JNS), and Invesco (NYSE:IVZ).
Today's Performance: Shares of TROW are trading at $63.60 as of April 21, 2011 at 2:27 PM ET, down 4.17% from the previous closing price of $66.37.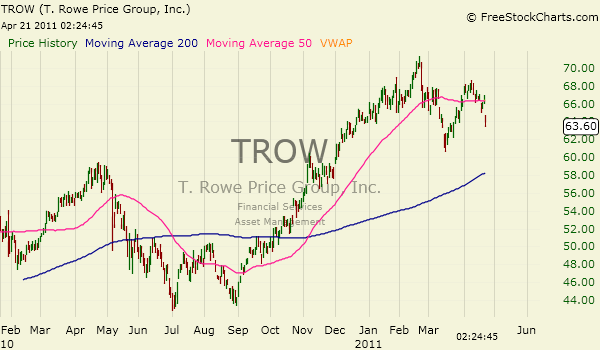 Don't Miss Wall St. Cheat Sheet's newest Feature Trades of the Month!