Take A Closer Look At Recent Daily Pressure On The S&P 500 Index
Repeating a pattern very common since the March 2009 bottom, much of the movement in the stock market continues to happen during the thinly traded off hours.  Indeed, we've just seen a three day rally in the S&P 500 (NYSE:SPY) which has tacked on a massive 3.3%.  However, during those 3 days the index is actually DOWN during normal hours – all the gains (and some) have come overnight, so you've completely missed the move if you tried to play these moves during the day.  Thursday was essentially flat on the close vs open, Friday the market closed significantly lower than where it opened, and yesterday again was essentially flat (slightly up).  Meanwhile, we've seen three gap ups in a row ….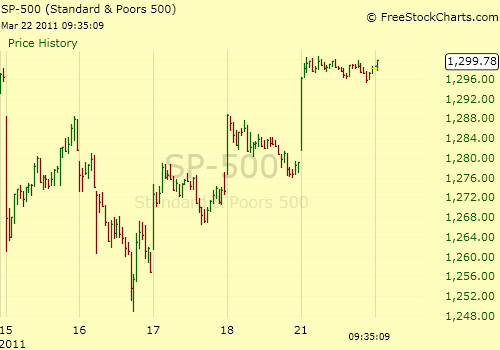 No position
This is a guest post written by Trader Mark who runs the blog Fund My Mutual Fund.