Take Note, Fed: Jobless Claims Are Down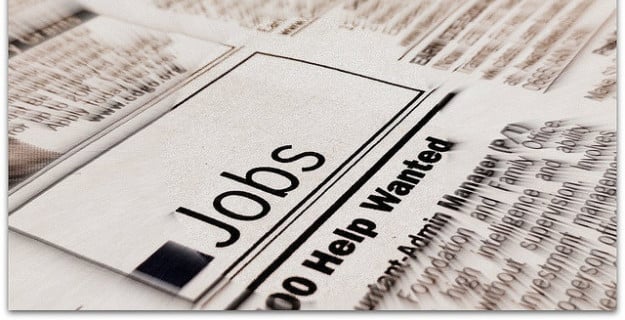 The number of Americans filing initial claims for unemployment benefits fell to the lowest level in four months — one possible indicator that employers are more confident in the strength of the economy and, as result, are ready to begin hiring in greater numbers. As applications for unemployment benefits act as a proxy for layoffs, this drop shows that employers are refraining from firing workers.
New jobless claims fell by 24,000 to a seasonally adjusted 334,000 in the week ended July 13, the U.S. Department of Labor reported Thursday. It was a far steeper drop than analysts had predicted.
While jobless claims provide the first look at the employment situation for any given month, the weekly figures can be volatile, so economists use a four-week moving average to understand wider trends. Last week, that figure also declined, falling 5,250 to 346,000. When compared to the same week in June, last week's four-week average was 0.7 percent lower.
Recent readings of the health of the United States labor market have revealed signs of strength. The Labor Department said earlier this month that 195,000 jobs were added in June; Challenger's layoff report showed employers announced 258,932 job cuts from January through June, the second lowest six-month total since 2000; and Gallup's U.S. Job Creation Index found that the positive sentiment of U.S. workers hit a five-year high in June.
This strengthening has led to increased speculation that the Federal Reserve will begin to scale back its monthly stimulus program sooner rather than later. However, unemployment has stood at 7.6 percent for three of the last four months.
Speaking to Reuters, Raymond James economist Scott Brown explained that last week's new claims were "still consistent with moderate job growth." Moderate job growth suggests that the American labor market has remained resilient despite January's tax increases and March's federal spending cuts, which appeared to weigh down economic growth in the first six months of 2013.
But other analysts made more cautious assessments of the data. Early July is historically a volatile time for jobless claims, and the Labor Department typically adjusts the numbers to account for temporary layoffs that often result from the annual summer closures of auto factories for maintenance. While fewer automakers have made those layoffs in the past several years, the initial jobless claims figures do show a significant increase in Michigan, Indiana, and Ohio, where automakers have a large presence.
Still, central bank Chairman Ben Bernanke's vision of the current economic condition in the United States may best be described as cautiously optimistic. "The economic recovery has continued at a moderate pace in recent quarters," he said at his testimony before the House of Representatives on Wednesday, "despite the strong headwinds created by federal fiscal policy." Similarly, the Fed's Beige Book summary of current economic conditions found that "hiring held steady or increased at a measured pace in most [of the 12] districts, with some contacts noting reluctance to hire permanent or full-time workers" during the last survey period.
Additionally, the number of people filing for their second week or more of unemployment benefits rose by 91,000 to 3.1 million in the week ended July 6, Labor Department's report said.
Overall, the U.S. economy lost 8.7 million jobs during the financial crisis.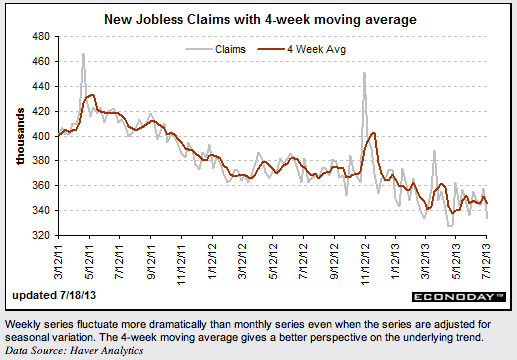 Follow Meghan on Twitter @MFoley_WSCS
Don't Miss: High Mortgage Rates? Hedge Fund Manager Still Says 'Buy a Home'.