Target and Sears Results Show Retail Hardships as Dow Hits Record: Market Recap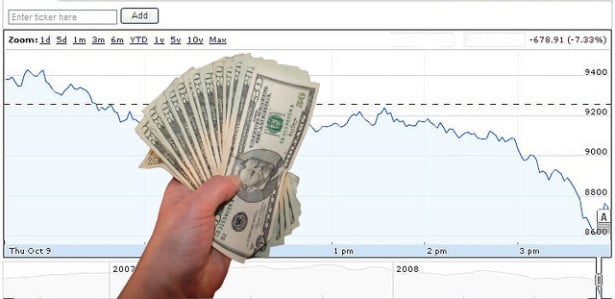 U.S. stocks rose during trading on Thursday upon data showing that jobless claims fell significantly last week. A report from the Labor Department released this morning showed that jobless claims fell 21,000 in the week that ended November 16, the biggest drop in two months. Bloomberg also released its Consumer Comfort Index, which showed that consumers are feeling more confident in November as worry about the economic effects of the government shutdown has basically disappeared. The market gains stopped three days worth of drops in the S&P 500 and saw the Dow close at a record high.

Gold: -1.29% to $1,241.80 per ounce Oil: +1.41% to $95.17 per barrel U.S. 10-Year: -0.29 to 2.784%
Jobless Claims Drop: Market Improvement or Seasonal Noise? Initial claims for unemployment benefits fell to a two-month in the week ended November 16 — a sign the labor market has shaken off the last of the effects of October's partial government shutdown, which significantly weakened business confidence. Data from the Department of Labor's Bureau of Labor Statistics showed first-time jobless claims dropped by 21,000 to 323,000 from the prior week's upwardly revised 344,000.
Cutting Through the Bulls***t: What's Going on With Fed Policy? On Wednesday, the U.S. Federal Reserve released the minutes of the monetary policy meeting held on October 29 and 30. The minutes revealed what most market watchers and Fed pundits expected: an unwillingness to reduce the rate of asset purchases (as economic conditions have not yet sufficiently improved), concern over market expectations for the eventual wind down, and tepid expectations for the ongoing recovery.
Filibuster Rules Altered: Obama Supports Change: Thursday has brought with it a major change in Senatorial power plays, with Senate Majority Leader Harry Reid, D-Nev. pushing a change to filibuster rules through the Senate using what's referred to as the "nuclear option." What the change will ultimately do in the short term is allow those previously blocked nominees chosen by President Barack Obama to be confirmed.
If Oswald Didn't Kill JFK, Then Who Did? Two weeks after the 35th president of the United States, John F. Kennedy, was assassinated in Dallas on November 22, 1963, a Gallup poll showed that 52 percent of Americans blamed a force larger than Lee Harvey Oswald for his death. Since then, polls continually indicate that a clear majority of Americans believe that Oswald did not act alone.
Here's your cheat sheet to today's top stories:
Bank of America (NYSE:BAC) has seen its stock climb and climb, recently reaching and surpassing the $15 mark. Many investors have been buying upside calls with hopes that Bank of America's stock will keep rising past $16 — according to Barrons. Back in January the $16 call trade had investors going crazy over the bank's stock, and it has been popular in the market since Bank of America began recovering from the financial crisis.
Target Corp. (NYSE:TGT) shares fell on Thursday after the retailer released its fiscal third-quarter earnings and investors were forced to weigh a falling earnings figure and lowered outlook. Target's third-quarter profit sunk 46 percent year over year, reflecting a bigger-than-expected loss in Canada, and executives also cut Target's earnings guidance for the year, now expecting $4.59 to $4.69 per share, down from an initial expected range of $4.70 to $4.90.
Green Mountain Coffee Roasters (NASDAQ:GMCR) shares closed up over 14 percent on Thursday as Green Mountain, the maker of Keurig-brand single cup coffees and brewers, posted higher-than-expected profit for the third-quarter after the closing bell on Wednesday. Sales of Green Mountain's K-Cups and single-cup brewers rose during the quarter, bringing in profit of 89 cents per share when analysts had expected the figure to be around 75 cents.
Sears Holdings Corp. (NASDAQ:SHLD) shares were plunging Thursday after the struggling retailer released its financial results for the third quarter that ended November 2. Sear shares closed in New York down 3.08 percent at $59.80. In its third-quarter earnings, Sears reported a wider-than-expected quarterly loss as results were affected by weak sales at both its namesake department stores and its Kmart discount chain.
GameStop Corp. (NYSE:GME) reported third-quarter results today. Despite earnings per share of 58 cents and revenue of $2.11 billion, which both beat (revenue grew 20.5 percent), shares closed down almost 7 percent as investors zero in on what they consider to be weak guidance from the company for the critical fourth-quarter holiday period. GameStop is eying EPS of $1.97-$2.14 versus the $2.15 consensus on its view that comparable store sales will range somewhere between 2 percent and 9 percent during the period.
Follow Jacqueline on Twitter @Jacqui_WSCS
Don't Miss: No Need for Print Newspapers Thanks to This New Google App.