Tax Day Advice: Why Paying With Plastic Is a Big Mistake
It's April 15 — otherwise known as tax day — and the Internal Revenue Service has some friendly advice: don't pay the government by credit card because the agency will charge you a processing fee. Despite the proliferation of the available methods to file taxes, there is no way to avoid these fees, which can amount to 1.88 percent to 2.5 percent on credit cards, or flat-fees of $2.99 to $3.95 per filing on debit cards.
IRS spokesman Dean Patterson told Bloomberg Friday that there is no way to avoid the card-processing fee the agency charges taxpayers who choose to pay their bill by credit or debit card, other than to pay by check. When the publication inquired as to why the federal government does not cover transaction fees from tax revenue, he said, "I suspect it's statutory that we can't."
Typically, when customers break out the plastic to pay for items like laundry detergent, the grocery store does not add a surcharge. This reality begets a very pertinent question: why are processing fees applicable to federal taxes and not retail purchases? But the answer is fairly straightforward. There is a processing fee that credit card providers such as Mastercard (NYSE:MA) or Visa (NYSE:V) charge retailers when credit or debit cards are used for retail transactions, but merchants usually cover that cost, or at least, hide it in an item's markup. But the government doesn't. After all, the "IRS isn't worried about you going to the store down the street," as Bankrate.com senior analyst Greg McBride told Bloomberg.
While Patterson reasoned that the federal government cannot cover transaction fees because of legal restrictions, the publication noted there may be another motivation: money. If all U.S. residents paid their non-withheld income and estate taxes by credit card last year, the fees would have totaled between $6.6 billion and $8.2 billion, an amount equivalent to more than half of the IRS's proposed 2013 budget.
Here's how the market traded Monday: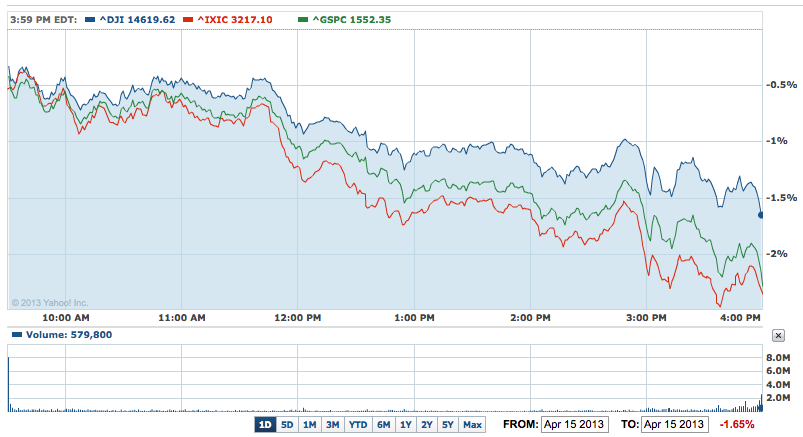 Don't Miss: Taxpayer Bailout Blues: Goldman Sachs CEO World's Highest Paid Banker.