Tellabs Earnings: Look Out Below!
S&P 500 (NYSE:SPY) component Tellabs, Inc. (NASDAQ:TLAB) swung to a loss in the first quarter, missing analysts' forecast. Tellabs, Inc. designs and markets equipment to telecommunications service providers worldwide.
Don't Miss: Wall St. Cheat Sheet's newest Feature Trades of the Month!
Tellabs Earnings Cheat Sheet for the First Quarter
Results: Swung to a loss of $24.1 million (7 cents/diluted share) in the quarter. The Tellabs, Inc. had a net income of $45.9 million or 12 cents per share in the year earlier quarter.
Revenue: Fell 15.1% to $322.4 million YoY.
Actual vs. Wall St. Expectations: TLAB fell short of the mean analyst estimate of a loss of 3 cents/share. Estimates ranged from a loss of one cent per share to a loss of 6 cents per share.
Quoting Management: "While international revenue grew 40% from a year ago, lower revenue in North America drove Tellabs' first-quarter results," said Rob Pullen, Tellabs president and chief executive officer. "Going forward, we will continue to invest in the smart mobile Internet through increased R&D spending to position Tellabs for long-term growth."
Key Stats:
Gross margins fell 12.7 percentage points to 37.9%. The contraction appeared to be driven by falling revenue, as the figure fell 15.1% from the year earlier while costs rose 6.8%.
A year-over-year revenue decrease last quarter snaps a streak of four consecutive quarters of revenue increases. The best quarter in that span was the second quarter of the last fiscal year, which saw revenue rise 28.5%.
Competitors to Watch: ADTRAN, Inc. (NASDAQ:ADTN), Ciena Corporation (NASDAQ:CIEN), Sycamore Networks, Inc. (NASDAQ:SCMR), Ditech Networks Inc. (NASDAQ:DITC), Calix, Inc. (NYSE:CALX), Telefonaktiebolaget LM Ericsson (ADR) (NASDAQ:ERIC), Juniper Networks, Inc. (NYSE:JNPR), Cisco Systems, Inc. (NASDAQ:CSCO), Alcatel-Lucent (ADR) (NYSE:ALU), and Sonus Networks, Inc. (NASDAQ:SONS).
Today's Performance: Shares of TLAB are trading at $5.07 as of April 26, 2011 at 10:07 AM ET, down 5.84% from the previous close of $5.50.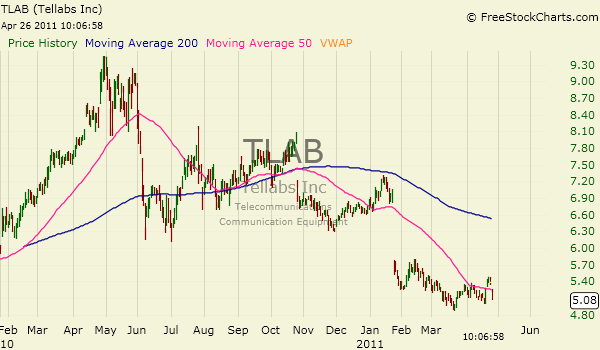 Don't Miss Wall St. Cheat Sheet's newest Feature Trades of the Month!