Teradata Corporation Earnings: Profit Decrease Breaks Four Quarter Streak
S&P 500 (NYSE:SPY) component Teradata Corporation (TDC) reported its results for the first quarter. Teradata Corporation provides enterprise data warehousing, including enterprise analytic technologies and services.
Don't Miss: Wall St. Cheat Sheet's newest Feature Trades of the Month!
Teradata Earnings Cheat Sheet for the First Quarter
Results: Net income for Teradata Corporation fell to $65 million (38 cents/share) vs. $67 million (39 cents/share) a year earlier. A decline of 3% from the year earlier quarter.
Revenue: Rose 17.9% to $506 million YoY.
Actual vs. Wall St. Expectations: TDC fell short of the mean analyst estimate of 46 cents/share. Estimates ranged from 43 cents per share to 54 cents per share.
Quoting Management: "Teradata is off to a strong start in 2011 with first quarter revenue growth of 18 percent," said Mike Koehler, president and chief executive officer of Teradata. "Corporations are faced with the challenge of managing and extracting value from data that continues to grow exponentially. In addition, the new data elements coming from sources such as web interactions, social media, mobile computing, and sensors are providing new opportunities for businesses to innovate and compete with analytics. This is placing extreme requirements on data warehouses to scale and manage complexity like we have never seen before – which is where Teradata excels."
Key Stats:
The company has enjoyed double-digit year-over-year revenue growth for the past five quarters. Over that span, the company has averaged growth of 14.4%, with the biggest boost coming in the most recent quarter when revenue rose 17.9% from the year earlier quarter.
Last quarter's profit decrease breaks a streak of four consecutive quarters of year-over-year profit increases. In the fourth quarter of the last fiscal year, net income rose 1.2% from the year earlier while the figure increased 19% in third quarter of the last fiscal year, 19.4% four quarters ago and 48.9% five quarters earlier.
Competitors to Watch: EMC Corporation (NYSE:EMC), International Business Machines Corp. (NYSE:IBM), CA Inc. (NASDAQ:CA), Microsoft Corp. (NASDAQ:MSFT), Progress Software (NASDAQ:PRGS), MicroStrategy (NASDAQ:MSTR), SAP (NYSE:SAP), Informatica (NASDAQ:INFA), and Oracle Corp. (NASDAQ:ORCL).
Stock Performance: Shares of TDC closed down 1.93%.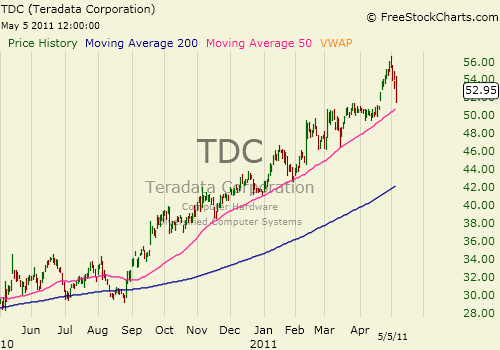 Don't Miss Wall St. Cheat Sheet's newest Feature Trades of the Month!