Teradyne Earnings: Guidance Not as Bright as Quarter
S&P 500 (NYSE:SPY) component Teradyne Inc. (NYSE:TER) reported a net income increase in the first quarter. Teradyne, Inc. develops, designs, manufactures and sells automatic test systems and solutions used to test complex electronics a variety of industries industries.
Don't Miss: Wall St. Cheat Sheet's newest Feature Trades of the Month!
Teradyne Earnings Cheat Sheet for the First Quarter
Results: Net income for the semiconductor equipment and materials company rose to $94.9 million (41 cents/share) vs. $50.1 million (24 cents/share) in the same quarter a year earlier. A rise of 89.4% from the year earlier quarter.
Revenue: Rose 14.4% to $377.2 million YoY.
Actual vs. Wall St. Expectations: TER reported adjusted net income of 39 cents per share. By this measure, the company beat the mean analyst estimate of 37 cents/share. Estimates ranged from 34 cents per share to 40 cents per share.
Quoting Management: "2011 is off to a strong start as we delivered our fifth quarter of above model performance driven by solid sales growth in our semiconductor and systems test groups," said Mike Bradley, Teradyne President and CEO. "Total orders were up 30% as our customers expand their test capacity to meet growing end market demand for a broad range of products including smart phones, tablets, automobiles and data storage."
Key Stats:
The company has enjoyed double-digit year-over-year revenue growth for the past five quarters. Over that span, the company has averaged growth of 93.6%, with the biggest boost coming in the first quarter of the last fiscal year when revenue rose more than twofold from the year earlier quarter.
Competitors to Watch: LTX-Credence Corporation (NASDAQ:LTXC), Verigy Ltd. (NASDAQ:VRGY), Advantest Corp. (NYSE:ATE), Aehr Test Systems (NASDAQ:AEHR), Nanometrics Incorporated (NASDAQ:NANO), Agilent Technologies Inc. (NYSE:A), Aetrium, Inc. (NASDAQ:ATRM), Cohu, Inc. (NASDAQ:COHU), Rudolph Technologies, Inc. (NASDAQ:RTEC), and inTEST Corporation (NASDAQ:INTT).
Today's Performance: Shares of TER are down 3.77% in after hours trading.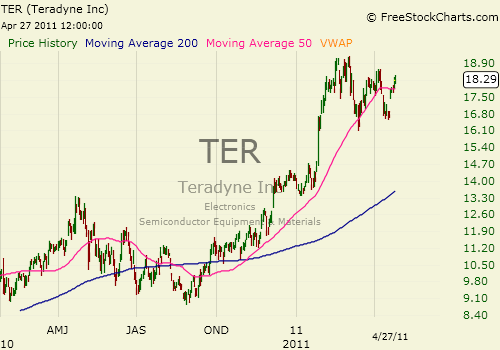 Don't Miss Wall St. Cheat Sheet's newest Feature Trades of the Month!