Terex to Divest Road Building Operations and 4 Stocks Hitting 52-Week Highs
Goldman Sachs Group (NYSE:GS): Closing price $152.24
Gregg Lemkau has been chosen as worldwide mergers and acquisitions co-chief at Goldman Sachs, says the Financial Times. Presently, Lemkau is the head of M&A in Europe and Asia. Shares closed up 0.42 percent on the day at $152.24 and have  been traded in a 52-week range of $90.43 to $152.50.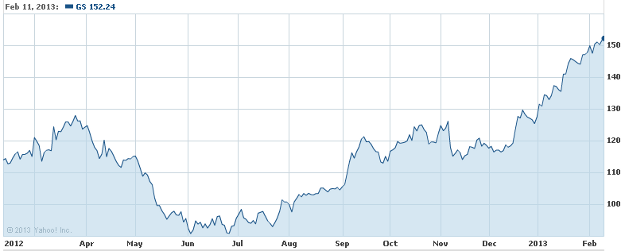 Icahn Enterprises (NYSE:IEP): Closing price $68.88
The board of the firm's general partner has okayed a change to its distribution policy through which to allow for an increase in the annual distribution from $1.40, comprised of 40 cents in cash and $1.00 in depositary units, to $4.00 per depositary unit, payable in either cash or additional depositary units, at the choice of each depositary unit holder. The board has declared a  first-quarter distribution in the amount of $1.00 which will be paid on or about April 15th to depositary unit holders of record at the close on February 21st. Shares closed up 14.9 percent on the day at $68.88, having been traded in a 52-week range of $37.22 to $65.17.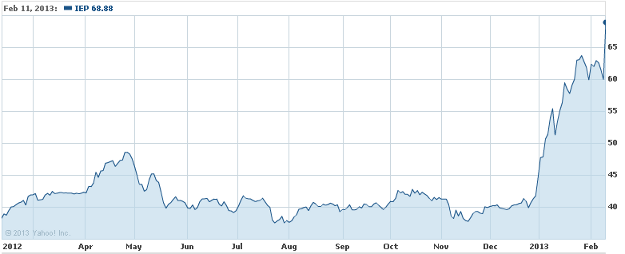 AudioCodes (NASDAQ:AUDC): Closing price $4.52
AudioCodes has revealed that more than 70 voice partners have joined AudioCodes One Voice for Microsoft Corporation (NASDAQ:MSFT) Lync, which is a unified product and service program meant to simplify and accelerate voice-enablement of Microsoft Lync implementations. Using this program, AudioCodes offers one source for voice network elements, one expert team for voice professional services and one point of contact for voice support. Shares closed up 2.96 percent on the day at $4.52 and have been traded in a 52-week range of $1.20 to $4.50.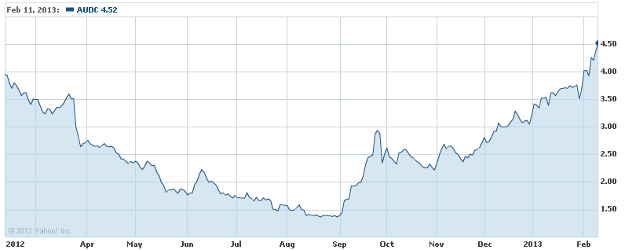 Terex Corporation (NYSE:TEX): Closing price $33.28
Terex has entered into a contract to sell its road building operations in Brazil and certain mobile roadbuilding product lines in the United States to the Fayat Group. Product lines being sold include asphalt plants and pavers manufactured in Porto Allegre and assets for the asphalt paver, reclaimer stabilizer and material transfer product lines that are presently manufactured in Oklahoma City. The transaction should to close during the first quarter. Terex will be getting out of the remaining roadbuilding product lines that it makes in Oklahoma City and has taken charges linked to the business assets being divested and the remaining Oklahoma City roadbuilding assets to reflect the probable realizable value in a transaction. The amount of these charges that will impact the fourth quarter results when posted is about $15 million. Shares closed down 0.69 percent on the day at $33.28 and have traded in a 52-week range of $14.05 to $33.59.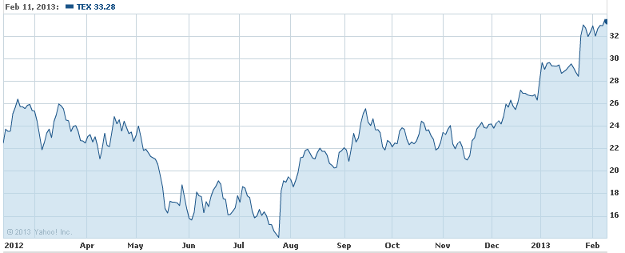 Tetra Tech (NASDAQ:TTEK): Closing price $29.15
Tetra Tech has been awarded a portion of a $500 million International Development contract. Shares closed down 0.27 percent on the day at $29.15, down $0.08 or 0.27% on the day. They have traded in a 52-week range of $23.41 to $29.48.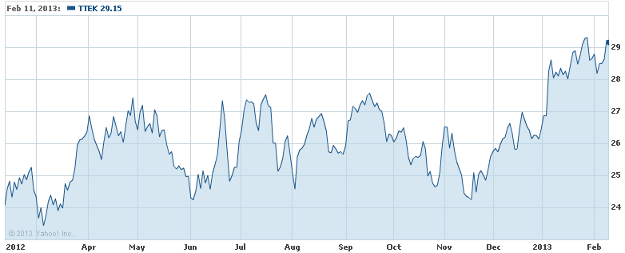 Don't Miss: What Do Top Executives Think About the Economy?